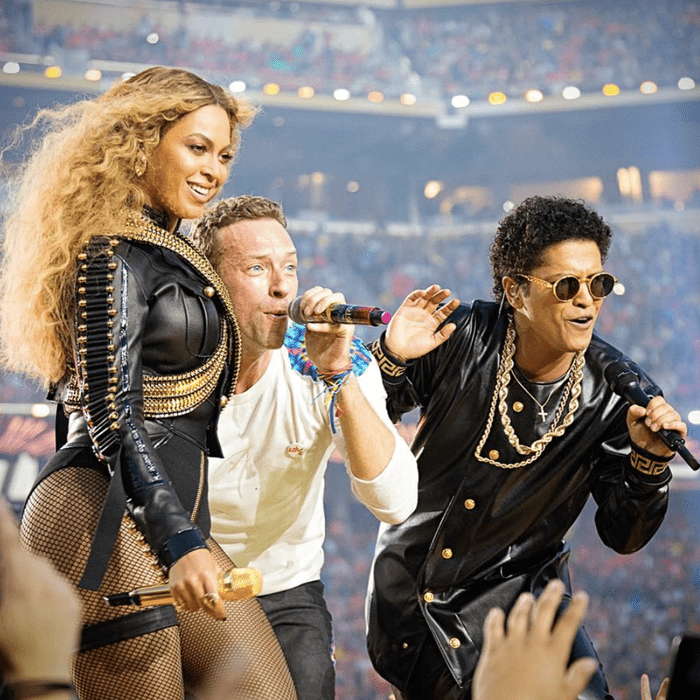 Coldplay, Bruno Mars and Beyonce won high praise for their halftime show performance during Super Bowl 50 on Sunday.
Coldplay started their set with a mashup of "Yellow" and "Viva La Vida", then moved to "Paradise" and "Adventure of a Lifetime."
Bruno Mars entered next, with a styling' rendition of his song "Uptown Funk", before making way for Queen Bey and her performance of her new track "Formation." Bey and Bruno then had something of a sing-off, with Beyonce singing "Single Ladies" and Bruno still jamming on "Uptown Funk."
Coldplay returned to perform "Clocks" while a video montage of past halftime show performances played.
Check out the full halftime show, here.
https://www.youtube.com/watch?v=LPNnSf4OQ98
And check out a higher quality video of Beyonce's performance of "Formation", below.
https://www.youtube.com/watch?v=-5BPfRHX1SE
Also look at some snaps of the Super Bowl 50 halftime show from the Instagrams of Beyonce and Coldplay.
https://instagram.com/p/BBgi9k8Hdb1/?taken-by=coldplay
https://instagram.com/p/BBgd2W1HdSs/?taken-by=coldplay
https://instagram.com/p/BBgdOH5HdRZ/?taken-by=coldplay
https://instagram.com/p/BBgc2A5HdQq/?taken-by=coldplay
https://instagram.com/p/BBgd3L6vwx6/
https://instagram.com/p/BBgeLUAvwyu/?taken-by=beyonce
https://instagram.com/p/BBgeOfJPwy1/?taken-by=beyonce
https://instagram.com/p/BBgektTPwzf/?taken-by=beyonce