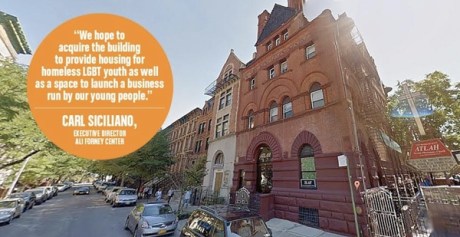 The Ali Forney Center (AFC), the nation's largest and most comprehensive organization dedicated to homeless LGBT youth, has reached the crowdfunding goal it set to buy Pastor James David Manning's Harlem hate church.
Manning's church is set to go up for auction because of approximately $1.02 million in public debts. Manning has said that he should not have to pay those debts, which he says are largely attributed to water and sewage bills, because of his church's tax-exempt status. That claim however has thus far fallen on deaf ears in the New York legal system.
If AFC manages to acquire the church, it plans to turn the building into a homeless shelter for LGBT youth.
Ever since the Center's crowdfunding campaign launched on January 29, there has been near-saturation news coverage, ranging from LGBT blogs to international news outlets. And since the jokes basically write themselves, the Daily Show set up interviews with [AFC founder and executive director Carl] Siciliano and Manning (though the segment has not yet aired). The coverage has helped Ali Forney onto the radar of the big donors and developers Siciliano says will help bridge the gap between the $200,000 they've raised through crowdfunding and a competitive bid, which could be well over a million dollars. "We're doing our homework to try to anticipate what the building could go for at auction," he adds. "We're confident we'll be able to go into the auction with a partner that will allow us to have not just an entry-level bid."
Siciliano is hopeful that the Center will be favored in the bidding process because the building is historic and the property thus subject to zoning restrictions that would preempt something like luxury towers. But even in the event the building is bought by a developer, the organization has had conversations about renting out space for roughly $30,000 a month — though Siciliano would not say which donors and developers are interested.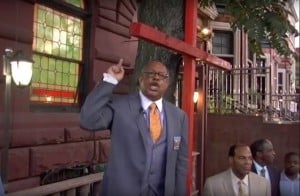 Siciliano also told The Voice, "I just have such a huge mix of emotions. I'm feeling very hopeful we'll come to the auction prepared to acquire the building."
Of the hateful messages Manning's church has repeatedly scrawled on its marquees of the over years (such as "Jesus Would Stone Homos"), Siciliano said,
"It's something that hurts our kids so much, because that's what happens in their homes. [It's] what our kids' parents tell them. If we could acquire the building it would be a real triumph."
Manning recently lashed out at the "sodomite fags" who are trying to buy his church, saying in a YouTube video, 
"Let me tell you something. Before you can ever own the Lord's House. Because that's what this is. This is the lord's house! This ain't no damn bathhouse! It ain't no fag house! And before you can ever own this property – hook or crook – own this property. Men who are fags with testicles will be carrying babies in their testicles and giving birth to them through their anus. That's how impossible it is for you to get this house. When you start carrying a baby in your bags and birthing that baby through your ass, then you can own this house!"
Siciliano, meanwhile, responded by saying, he has "no interest in birthing babies."