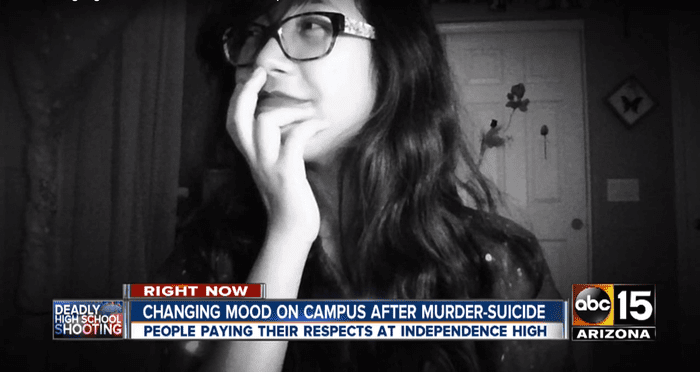 Two teen girls from Arizona who were reportedly in a relationship died on Friday in what police are calling a murder-suicide.
Police have not said what they believe the motive was in the crime. However, a local news report suggests that a rift between the two girls and jealousy may have been contributing factors.
Glendale police spokesperson Tracey Breeden said officers responded to calls of a shooting at Independence High School near 75th and Glendale avenues just before 8 a.m., right around the time school was scheduled to begin for the day.
Police found two 15-year-old female sophomores lying next to each other on campus, each dead from a single gunshot wound, said Breeden. A weapon was found next to them.
Breeden said a suicide note was also located at the scene, leading detectives to believe one of the teens shot the other before turning the gun on herself. […]
According to Breeden, the investigation has revealed the two girls were very close friends and appeared to also be in a relationship.
Read tweets from local reporters about the incident and watch two news reports from ABC 7, below.
Students hugging, crying after leaving Independence High @abc15 pic.twitter.com/BSHjjoHVd7

— Nick Ciletti (@NickCiletti) February 12, 2016
https://twitter.com/LaurenABC15/status/698212774590058496
#BREAKING: Air15 over police situation at Independence High School near 75th Ave/Glendale. Working to learn more. pic.twitter.com/vRi7w14ncl

— ABC15 Arizona (@abc15) February 12, 2016
Glendale Union High School District: "Our hearts and thoughts are with the families affected by this tragedy." pic.twitter.com/C1uDexmEFi

— ABC15 Arizona (@abc15) February 12, 2016
This memorial has been placed outside of Independence High this morning. https://t.co/xrB4s62oi7 #abc15 pic.twitter.com/DMvkpfpTyX

— ABC15 Arizona (@abc15) February 13, 2016
Police say the 2 girls were very close, appeared to be in a relationship. They were found near the cafeteria area. Each had 1 gunshot wound.

— ABC15 Arizona (@abc15) February 12, 2016