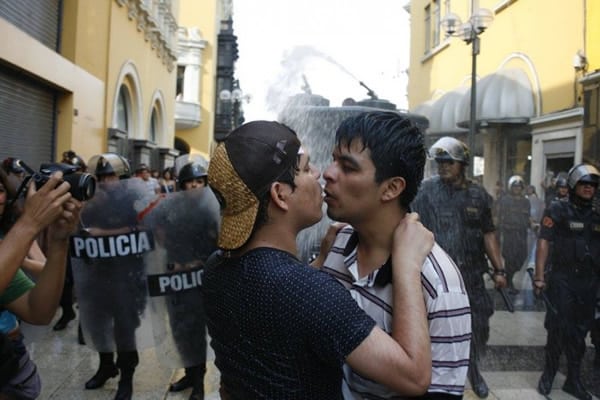 Peruvian LGBT activists were blasted with water cannons and sprayed with kerosene during a Valentine's Day kiss-in meant to protest homophobia in the South American country.
The "kisses against homophobia" event is reportedly held annually by pro-LGBT protesters in Lima's Plaza de Armas. While activists say they face violence each year, they keep coming back in defiance of police brutality.
Sin Etiquetas, a Lima-based LGBT website, posted pictures to its website that show same-sex couples kissing and holding hands in the street with armored police trucks in the background. Other pictures show officers confronting the protesters. A YouTube video shows the advocates shouting, "No to homophobia." –
Chola Contravisual, a self-described "feminist audiovisual collective" that organized the protest, told the Washington Blade on Sunday that police sprayed the activists with water and kerosene from an armored truck. The group said that a Sin Etiquetas contributor was hurt during the incident. Chola Contravisual told the Blade that an activist also suffered a bruised arm. […]
George Liendo of Promsex, a Peruvian LGBT rights group, told the Blade that members of his organization took part in the protest. "The aggression was excessive towards the young people who gather each year in the main square to kiss against homophobia," he said. Liendo told the Blade that authorities have banned protests of "any kind" in the square. He said that religious processions, cultural events and other demonstrations routinely take place without incident.
Watch videos from the kiss-in, below: