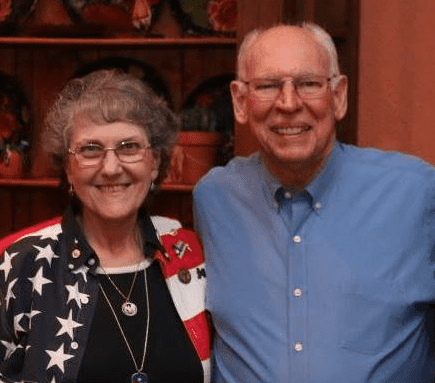 A candidate for Texas' State Board of Education recently wrote on Facebook that President Barack Obama has "a soft spot for homosexuals" because he spent years working as "a male prostitute" in his 20s.
Mary Lou Bruner (shown above with Rafael Cruz) is one of three Republicans vying for the District 9 seat on the 15-member State Board of Education, which has consistently made national headlines as an ideological battleground over Islam, evolution, climate change, sex education and other topics.
The Texas Tribune reports that Bruner, considered a strong contender in the race, is best known for Facebook posts in which she's expressed insane anti-Muslim, anti-gay and anti-science opinions:
"Obama has a soft spot for homosexuals because of the years he spent as a male prostitute in his twenties," Bruner said last October in a now-deleted post on the wall of her personal Facebook page, where she also has posted campaign materials and solicited votes. 

Bruner, who worked for 36 years in East Texas schools as a teacher, counselor and educational diagnostician, said she stands by all her posts but deletes the ones she comes to learn are inaccurate and also publicly apologizes.
"I'm not ashamed of anything that I have ever said," Bruner said, noting she plans to bring to same zeal to the state board, speaking her mind even if she's outvoted. "If I'm on the State Board of Education, I'm going to speak up for the things that I believe because I have a First Amendment right."
The Tribune could not, however, locate a public apology for that post on Obama, which Bruner has since deleted from her Facebook page. Asked specifically about the post and whether she still believes the president used to be a gay prostitute, Bruner said: "You are obviously a hostile and biased reporter pretending to be a friendly reporter to gain my confidence. The interview is over."
Via Gawker, here's what Bruner wrote in August in response to the U.S. Supreme Court's ruling in favor of nationwide marriage equality: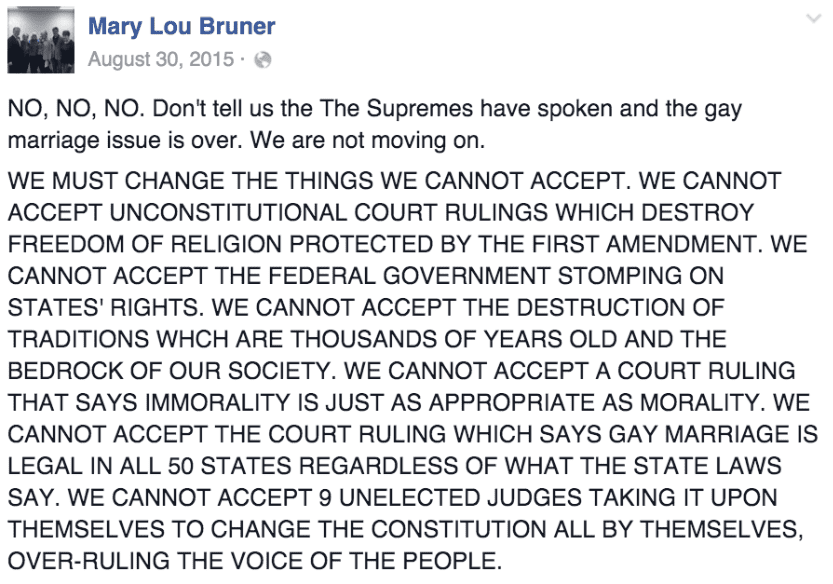 The Tribune reports that another Republican candidate in the race, Hank Hering, declined comment but included "A Plenipotentiary of the King" in his email signature, "an apparent analogy for a messenger of Jesus Christ."  The third GOP candidate, Lufkin school board president Keven Ellis, appears to be the only hope for sanity. Democrat Amanda Rudolph, a professor at Sam Houston State University, is also running, but she has little chance of winning in the conservative district, which spans 31 counties in Northeast Texas.
Dan Quinn, a spokesman for the Texas Freedom Network, told the Tribune that if Bruner is elected, "it's almost certain we would see the board shift back to those divisive and dysfunctional battles over culture wars that were more common four or five years ago."
Read more on Bruner's views from the Texas Freedom Network here.