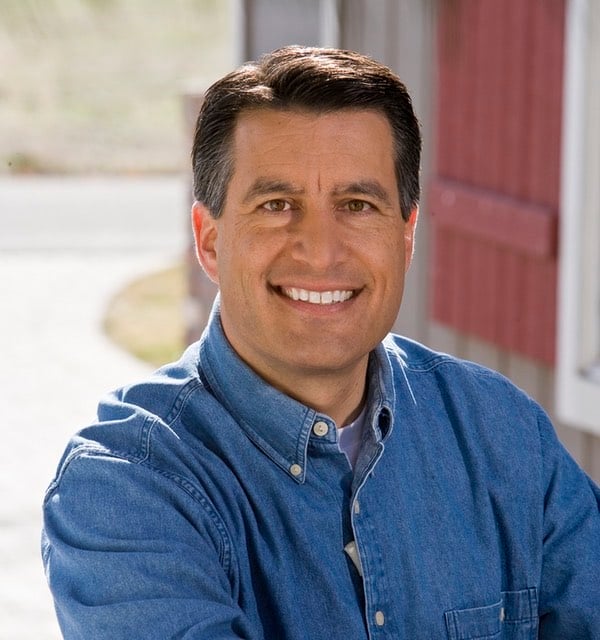 Republican Nevada Governor Brian Sandoval is being vetted by The White House as a possible nominee to replace recently deceased Supreme Court Justice Antonin Scalia on the Court. The move is being viewed as a possible attempt to thwart the GOP's vowed obstruction of any candidate President Obama nominates to fill the current vacancy.
Sandoval previously served as a district court judge and was confirmed by the Senate in 2005. He is one of the most popular governors in the nation and is considered a moderate within the party. On LGBT rights, Sandoval said he supported the Supreme Court's ruling on gay marriage in Obergefell v. Hodges and swore to fight those who sought to prevent gay marriages from being performed in the Silver State.
The source, who asked not to be identified, said Sandoval met on Monday in the U.S. Capitol with Senate Democratic leader Harry Reid, at which time Reid asked the governor whether he would be interested in being considered for the high court job.
"He said he was interested," the source said, adding that "a number of people are being checked out" for the job.
Via The Washington Post, who first broke the story:
Speaking to reporters Wednesday, White House press secretary Josh Earnest would not comment specifically on whether the administration was considering Sandoval, on the grounds that he did not want "to get into a rhythm of responding" to every report on a potential nominee. But he said that Obama was committed to finding "the best person to fill the vacancy at the Supreme Court," regardless of whether that person is a Democrat or Republican.
"The president's focused on criteria that, frankly, is more important, and that is that individual's qualifications, and their experience and their view of the law," Earnest said. "That will take precedence over any sort of political consideration."
Meanwhile, three Republican senators on the Senate Judiciary Committee have said a Sandoval nomination would not change their plans to obstruct any Obama nominee:
"This is not about the personality," [Sen. Jeff] Cornyn [R-Texas] said on Wednesday afternoon.
"I don't think so," [Sen. Orrin] Hatch [R-Utah] said when asked if a Sandoval nomination would alter his thinking, adding he thought "very highly" of the GOP governor. Asked if Sandoval was qualified to serve on the court, Hatch said, "I wouldn't make that judgment now."
"The short answer is no, it doesn't change anything," said Sen. Mike Lee (R-Utah).
As far as how a Sandoval pick would play out in Democratic circles, WaPo has this to say:
But nominating Sandoval would carry risks for Obama. Sandoval is aligned with Democrats on some key issues, including abortion rights and the environment. As governor, he has moved to implement the Affordable Care Act, and has said he considers same-sex marriage to be a settled issue.
But Sandoval is not seen as labor-friendly — potentially alienating a swath of the Democratic base. His legal credentials are also lacking compared to some of the other names  under consideration who are mainly sitting federal judges.
A Senate confirmation of Sandoval through this year could deny a Democratic successor to Obama, whether Hillary Clinton or Bernie Sanders, the opportunity to nominate a more orthodox liberal to the court and cement an ideological shift in its jurisprudence.
Earlier on Wednesday, President Obama wrote a guest post on SCOTUS blog describing what he's looking for in a Supreme Court candidate.
You can watch the speech Sandoval made at the Republican National Convention back in 2012, below.
https://www.youtube.com/watch?v=IGflGv30D7k