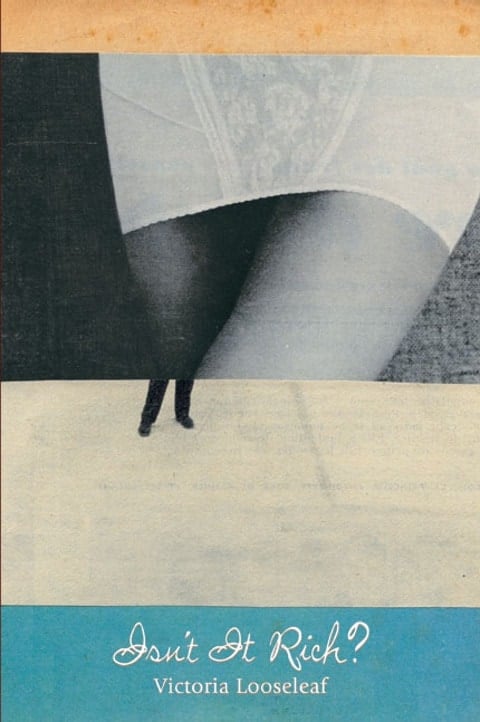 I have spent my career, well, my life, fascinated by brilliant, outrageous women on screen, stage and off-stage. Victoria Looseleaf is decidedly worthy of worship. Dazzling and flamboyant, the Los Angeleno was once a professional harpist. Her late night show The Looseleaf Report was a long running success. As an award winning dance critic, Looseleaf has been stationed in most of the great capitals of the world. I think of her as a Jewish Auntie Mame with little money and oodles of style. It is with great pleasure to present a piece from her new tome.
La Bella Looseleaf has written a book of poetry, Isn't It Rich? This memoir-in-verse offers an intimate and very funny insight into the mind of the martini-swilling, love-hungry, barefoot doyenne.
Looseleaf's late night, bi-coastal talk and variety show, The Looseleaf Report, was a wild mix of social commentary, humor and the best of the LA and New York underground scenes. Her guests included performance artist John Fleck, the Del Rubio Triplets and my fellow drag artists, Lypsinka and Holly Woodlawn. And, my dears, I would be remiss if I didn't mention that I, too, once graced The Looseleaf Report couch with my frequent muse, the fabulous comic thespian Julie Halston at my side. Straddling high and low culture, The Looseleaf Report also embraced the mainstream, with bold-faced names such as Leonardo DiCaprio, legendary songbird Yma Sumac, Transparent's Jill Soloway and comic genius George Carlin.
For your enjoyment, I present a poem of love and sunny California. Victoria Looseleaf's Isn't It Rich? is available on Amazon.
SUNDAY IN THE POOL WITH FRED
Sunday in the pool with Fred
won't win a Pulitzer
any Tony Awards
or the New York Drama Desk prize
but it certainly beats sitting in a
lonely, air-conditioned apartment
on Doheny Drive.
Fred and I have been pool friends for years.
Was a time when I thought we might even
get married and have kids.
He's handsome
successful
witty
jewish
and
gay.
That would have been okay with me.
He loves kids and I wasn't
Ms. Monogamous
myself.
We could have had
the best of both worlds
because this was before AIDS
before herpes
and before he settled down with another man
not unlike himself.
//
I'm floating in the newly-plastered pool
floating back to the early days
the very early days.
We even met in a jacuzzi in Palm Springs
and our relationship erupted like those
whirling jets.
But the night I always remember is the
night we had sex.
It was his birthday.
We'd been to Chasen's for dinner
and ate chili sitting at the best table
with a view of Peggy Lee and the heart surgeon
Christian Barnard.
Our fevers were rising and my major artery
was pumping hard with want.
We drank a lot of Mumm's,
then went back
to his place to continue the fantasy.
Heavy petting led me to the bathroom
to retrieve a false eyelash;
him to the bedroom for the encounter.
There was a lot of in and out in
Beverly Hills that night but
morning had to come and reality
set in the way it does after too much
champagne
cocaine
and not enough
foreplay.
We never had sex again but we still
spend nights together.
The adjoining hotel rooms in places like
San Francisco
Fire Island and Martha's Vineyard remind us
of what could have been.
We don't ever talk about
that birthday
that evening
those dreams.
At least I don't.
I just come and spend Sunday in the pool
with Fred because I know it's the
California thing to do.
Charles Busch is an actor, Tony-nominated playwright and drag legend. This spring, he will return to the New York stage as Cleopatra.
Cover art by Belgian artist Kristen DeBlauwer