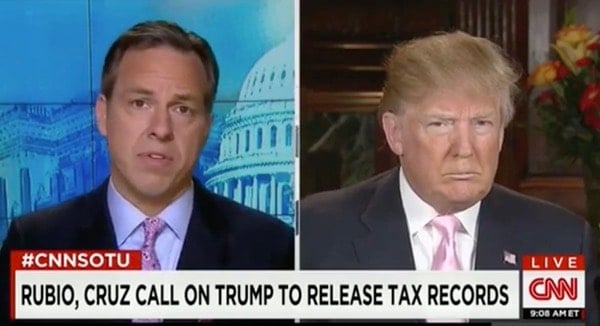 Jake Tapper asked Donald Trump about his endorsement from David Duke, the former Grand Wizard of the Ku Klux Klan, on CNN's State of the Union Sunday morning.
Trump pretended that he didn't know anything about Duke and claimed he wasn't aware that he was garnering the support of white supremacist groups like the KKK.
When asked if he would denounce such groups publicly, Trump declined, saying he needed to know more specifics.
Watch:
When Trump's decision to denounce began making headlines, both Ted Cruz and Marco Rubio took notice.
Rubio says Trump "unelectable" for failing to denounce David Duke strongly.

— Ed O'Keefe (@edokeefe) February 28, 2016
Rubio: "We cannot be a party who nominates someone who refuses to condemn white supremacists and the Ku Klux Klan."

— Ed O'Keefe (@edokeefe) February 28, 2016
Cruz called it "really sad."
Really sad. @realDonaldTrump you're better than this. We should all agree, racism is wrong, KKK is abhorrent. https://t.co/dn2D74c5dl

— Ted Cruz (@tedcruz) February 28, 2016
Trump followed up the Tapper interview by tweeting a segment from his Christie press conference on Friday during which he was asked about and disavowed  Duke's endorsement – and clearly seemed to understand who was endorsing him:
https://twitter.com/realdonaldtrump/status/703996959544250373