Iceland's WOW Airlines recently announced that one of its airplanes is gay.
Well, it's named "GAY" anyway. The company has gotten in the habit of naming its new planes after members of a family unit–MOM, DAD, SIS, BRO, SON, KID–and to reflect the modern family they decided to add "GAY" to their fleet.
WOW's decision to name one of its brightly colored planes GAY (TF-GAY is the official name of the company's new Airbus A330) was also inspired by the route that the new plane will take, from Iceland to San Francisco.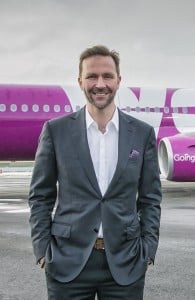 WOW CEO Skúli Mogensen (right) told gay Iceland, "We wholeheartedly support queer people's fight for rights. Just as we support equal rights for everybody, no matter their gender, religion, ethnicity or culture. By making it possible for everybody to travel with us [WOW focuses on affordable airfare], we'll hopefully manage to make the world slightly smaller, and better."
Of naming the plane in a nod to San Francisco's queer history, Mogensen says, "One of our pilots came to me and suggested this name and I thought it was a cool idea so we went ahead with it."
As for how the name fits into the company's concept of what it means to be a modern family, Mogensen adds, "WOW is basically MOM upside down and everybody loves their mom! Since day one, we've emphasised joy and friendliness in our services because we want everybody to feel welcome in the WOW family. And we think TF-GAY fits right in with our modern family concept."
Mogensen says he's not afraid of any backlash he might experience for christening his 'gay' plane: "If I were worried or scared of what people might say about me or what I do, then WOW air wouldn't exist."
As for other companies that have spoken out against LGBT rights, Mogensen says, "Prejudice and narrow-mindedness are usually the result of ignorance and an inferiority complex. So such views judge themselves."