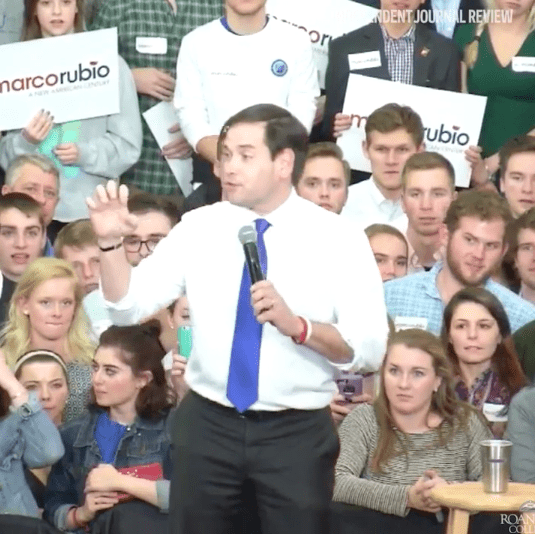 Marco Rubio upped the ante on his attacks against Donald Trump at a recent campaign event in Virginia where he made fun of Donald Trump's "small hands" and his spray tan.
Said Rubio to the assembled crowd, "His hands are the size of someone who's 5'2". And you know what they say about men with small hands." He paused before adding, "You can't trust 'em!"
In response to the property mogul calling him "little Rubio," Rubio conceded that Trump was taller than him. However, the Florida senator suggested Trump had small hands for his height. […]
Rubio also targeted Trump's notorious tan, saying he "doesn't sweat because his pores are clogged from the spray tan."
"Donald Trump isn't gonna make America great, he's gonna make America orange," he said.
https://vine.co/v/ig7u363QbHa
Trump's hands have long been a target of jokes from his critics. In November, Vanity Fair's Graydon Carter wrote how Trump for years remained indignant that Carter had described him 25 years ago as a "short-fingered vulgarian." In response, Trump over the years would send photos of his hands, Carter wrote.
"I almost feel sorry for the poor fellow because, to me, the fingers still look abnormally stubby," Carter wrote.
It's become a frequent troll of Trump among some conservatives and libertarians. In January, Sen. Ben Sasse joined in.
Watch a longer video of Rubio's attack on Trump's appearance, below.