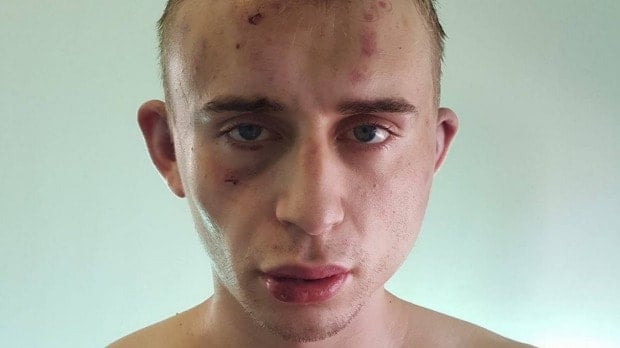 A gay man living in Sydney, Australia is speaking out and sharing details of the brutal gay bashing that left his boyfriend with a swollen jaw and eye, lumps and cuts on his face, a split lip and bruising all over his body.
Darren Hedderman (27) says that his boyfriend, Dylan Souster (22), was first attacked by a group of youths and then gay-bashed by a "Good Samaritan-turned-bad" who was helping Souster after his first assault until he learned that he is gay.
The Sydney Morning Herald reports: 
[The couple, from Ireland] had invited friends over to their apartment on Saturday night, after which [Souster] went outside to make sure their guests had got in a taxi safely.
Mr Hedderman said he went to bed, expecting Mr Souster to follow him in shortly, but he woke up an hour-and-a-half later to Mr Souster screaming for help. Mr Souster then told him what had happened.
"He walked up McEvoy Street a little bit and couldn't see them [their guests], so he turned around," Mr Hedderman said.
"As he turned around, somebody hit him, and the next thing he remembers is waking up in Waterloo Oval being kicked in the head.
"He doesn't know how he got to the oval. We don't know whether he was dragged there or whether he ran, he doesn't remember."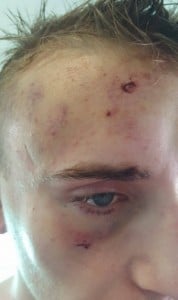 After the gang of youths stopped, Souster asked for help from someone he saw on the street. The man agreed to help walk him back to his apartment, where the evening took another ugly turn:
At the apartment block, the man asked Mr Souster if he wanted him to call his girlfriend to take him upstairs. Mr Souster replied that his boyfriend was in their apartment, and he could go to him.
"And he said 'Oh you have a boyfriend, you're a queer', and he hit him in the face," Mr Hedderman said.
Mr Souster eventually made it upstairs, and was taken to St Vincent's Hospital for treatment. Mr Hedderman said they spent 12 hours at the hospital, and Mr Souster underwent several scans.
Superintendent Tony Crandell, New South Wales Police spokesman on Sexuality and Gender Diversity, remarked that the occurrence of two "bias-related assaults" was uncommon and concerning to police.
Hedderman spoke to the media about Souster's attack because Souster was too sore to speak.
The vicious attack comes just days before Sydney's Gay and Lesbian Mardis Gras Parade on March 5.