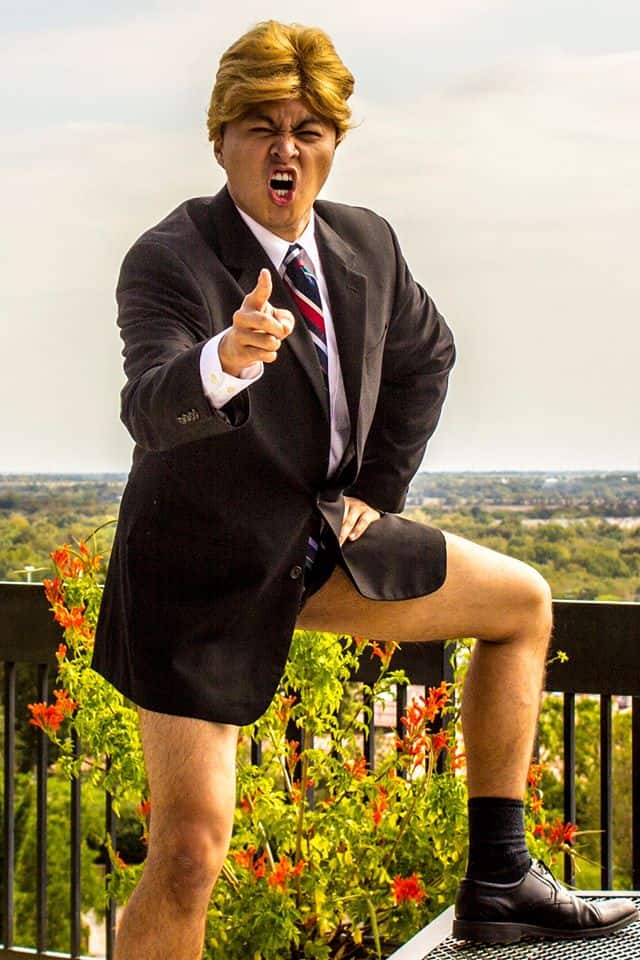 A gay college student in Texas is enjoying his 15 minutes of fame for posing on campus as a sort of go-go boy named "Donald Tramp," in an apparent spoof of the GOP presidential frontrunner's whorish ways.
Kristoffer Ian Celera is a student at Texas State University in San Marcos, which is 30 miles south of Austin but is developing its own reputation for weirdness.
Celera, a former Marine and self-described Libertarian, began dressing as "Donald Tramp" as early as October. But Celera's routine went viral after California musician posted it on Facebook a few weeks ago.
From The Austin Statesman:
Video recently surfaced of a Texas State student dressed in short shorts, a blazer and a toupee. He calls himself "Donald Tramp" and his dream is to "Make Short Shorts Great Again."
In the Feb. 10 video shared by Facebook user BOY CHAD, student Kristoffer Ian Celera can be seen dancing seductively and yelling "Vote for me, Donald Tramp!" before standing up and starting a striptease.
According to Celera's Facebook profile, he is studying computer science at Texas State and "likes" several political organizations on the site, like "Students For Rand" and "Young Americans For Liberty."
More from The Express-News of San Antonio:
His platform is more concise than the Republican presidential candidate's. The first item on his agenda is to #MakeShortShortsGreat again, he captioned the picture.
"The secret to my power is the toupee," he added in a response to a Facebook user in the thread. "The one wig to rule them all." …
On Facebook, he answered the question of why by not really saying much.
"It's college, I don't have to explain," he said. "Can't Stamp the Tramp […] I'm now a Texas State Character."
Watch the video below.
https://www.facebook.com/BOYCHADWIK/videos/1695932267290230/
(image via facebook)