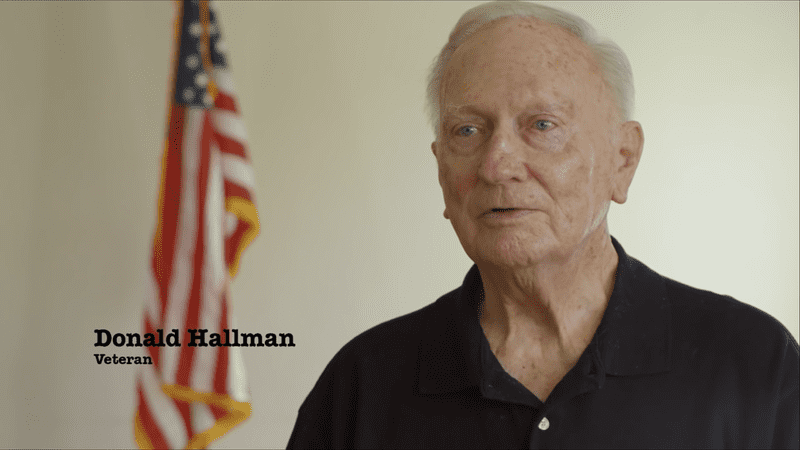 Gay veteran Don Hallman has finally received an honorable discharge from the U.S. Army 61 years after he was kicked out for being gay.
Hallman joined the military in 1953 because, he says, "I wanted to serve my country." He was dishonorably discharged in 1955 while serving in Frankfurt, Germany after he began talking with with a young man on a sidewalk. Before the pair could do anything, police moved in on him. Hallman believes his arrest was part of a sting operation. After that, Hallman says, "I was on an airplane back to New York and discharged almost immediately. Just bang, bang, bang… no explanation, no conversation, no nothing."
Following President Obama's repeal of Don't Ask, Don't Tell in 2010, Hallman sought to have his discharge record changed from dishonorable to honorable. Hallman appealed to the Army Review Board in June.
U.S. Sen. Sherrod Brown, an Ohio Democrat, helped Hallman obtain the update. Brown says an estimated 100,000 Americans have been discharged from the military because of their sexual orientation since World War II and often lost benefits they had earned.
Brown co-sponsored federal legislation to help service members discharged solely due to their sexual orientation correct their military records and receive reinstated benefits.
Hallman served from 1953 to 1955 and was stationed in Frankfurt, Germany.
As NBC News notes, Stonewall Columbus, who helped Hallman with his appeal alongside Brown, wrote on Facebook on Friday, "We are SO very proud to announce that Veteran Donald Hallman has received his honorable discharge after once being given an 'undesirable' discharge and removed from the Army in 1955."
Last month, Brown said in a statement, "Those who served our country even when it didn't support them deserve our utmost respect and honor, and we owe it to them to make upgrading their discharge status as easy and efficient as possible."
Hallman himself said in a video posted by Stonewall Columbus last September, "I'll be so happy when the conclusion comes to the end I get my honorable discharge. And I hope that happens with every other person that was mistreated." Hallman has not provided a comment since his dishonorable discharge was overturned late last week.
Watch a video profiling Hallman, below: