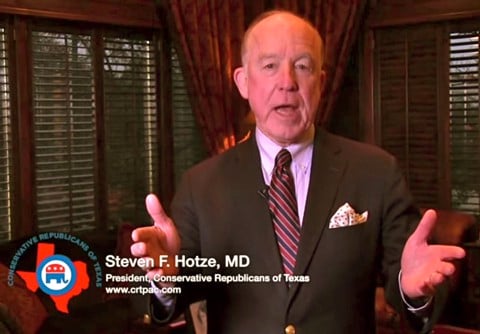 Buoyed by the successful campaign to repeal Houston's Equal Rights Ordinance, anti-gay extremists in Texas have set their sights on taking over a state Republican Party that's already dominated by the GOP's right wing.
Anti-LGBT Houston attorney Jared Woodfill, who served as spokesman for the disgusting anti-HERO campaign, formally announced his bid for state GOP chair last week, at a dinner hosted by the Conservative Republicans of Texas, the group led by rabidly anti-gay activist Dr. Steve Hotze.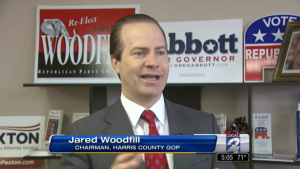 Hotze, who heavily bankrolled the anti-HERO campaign, claimed at the dinner that he received many death threats from "foul" supporters of the ordinance, according to The Quorum Report:
"If they have it their way…they will put you in jail and they will fine you," Hotze said. …
"Pedophilia is the next point. They're going to come down and change that law," Hotze said, adding that gay rights activists "want to pervert this society." Even in a very conservative room, that comment drew what could charitably be described as tepid applause.
Also speaking at the dinner was Texas Lt. Gov. Dan Patrick, who accepted the "Warrior of Biblical Values Award" from Hotze's group. Patrick, a tea partier, spent $70,000 in campaign funds for a fear-mongering anti-HERO ad, in which he disgracefully promulgated the debunked transgender bathroom myth. From The Quorum Report:
"When the church will stand up and the pastors will speak out and bring their numbers together we as Christian conservatives cannot lose," Patrick said, at times nearly shouting before the crowd of about 300.
Hotze, Patrick and Woodfill also slammed Texas House Speaker Joe Straus and his leadership team, blaming him for the demise of a blatantly unconstitutional anti-gay marriage bill last year. However, The Quorum Report notes that the Texas Senate, led by Patrick, also failed to pass the measure:
The actual announcement of Woodfill's candidacy for RPT chairman was contained in a video shown to the crowd. …
Part of the video was essentially a greatest hits reel of Woodfill's media interviews in which he spoke out against HERO. The announcer in the video said the "LGBT homosexual political movement" was "hell bent on creating sexual anarchy in our society." The CEO of the Greater Houston Partnership, Bob Harvey, was called "pro-homosexual" and the Harris County Republican Party was slammed because its executive committee did not pass a resolution against HERO.
The party's chairman Paul Simpson was criticized for failing to join in Hotze and Woodfill's efforts against "the lesbian activist mayor of Houston" Annise Parker.
Woodfill, who led the Harris County GOP until he was defeated by Simpson in 2014, will challenge current state party chair Tom Mechler at this year's convention.
Mechler once said if his local newspaper ever published a photo of a same-sex couple kissing, he would cancel his subscription. But Mechler opposed Woodfill's effort to move the convention out of Dallas over the City Council's recent decision to strengthen transgender protections.