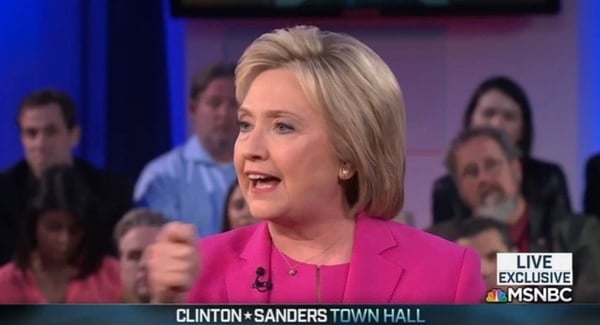 Joe Sacco, a Las Vegas real estate agent and Bernie Sanders supporter, told Hillary Clinton at last night's Democratic town hall in Las Vegas that he had been big supporters of the Clintons ten years ago but had lost faith in them when they refused to support marriage equality. Sacco's statement came following a separate question about why Clinton hadn't released copies of her private speeches to bank executives.
Said Sacco:
"Secretary Clinton, I do respect you very much. In fact, only a decade ago I was a very, very big supporter of yourself and your husband. It actually broke my heart when you said marriage was between a man and a woman. How can we trust that this isn't just more political rhetoric?"
Replied Clinton:
"You know, I, like many Americans, have evolved. And I'm glad I have. I am a 100 percent supporter and I am absolutely adamant about protecting marriage equality. And I think it's significant that the Human Rights Campaign, the leading organization in our country to ensure that the LGBT community has the rights they deserve, have endorsed me. Now your candidate said 'well that's because they're a member of the establishment.' Well, with all due respect, they fight against the establishment every single day, and I've been with them for years, and I will pass the Equality Act too."
On the question of the transcripts, Clinton replied:
"I am happy to release anything I have when everybody else does the same. Every other candidate in this race has given speeches to private groups, including Senator Sanders."
Watch:
Sacco later tweeted that he feels Clinton is "untrustworthy" and "deflected" his question.
https://twitter.com/MrJoeSacco/status/700541707515875328?ref_src=twsrc%5Etfw