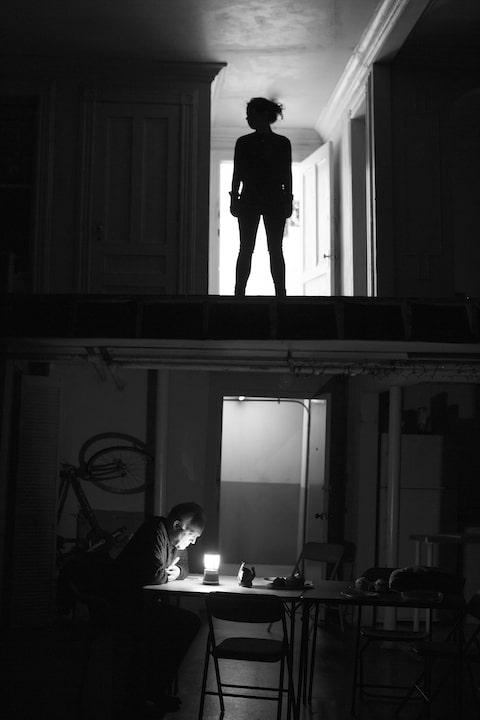 If getting together with family for the holidays fills you with an equal mix of anticipation (unconditional love and support!) and dread (passive aggression, defensiveness, and just plain TMI!), you'll likely identify with Stephen Karam's The Humans to the point of squirming in your seat. Any discomfort you may feel will likely be soothed by the revelation that your family isn't quite as uniquely effed up as you thought.
Brigid (Sarah Steele), a twentysomething waitress and aspiring musician, and Richard (Arian Moayed), a thirtysomething social worker in training, have just moved into a shabby basement apartment in Chinatown (affectionately referred to as a duplex, without any of the luxury the word inspires). Most of their stuff hasn't even arrived yet, but the place fills right up with emotional baggage when Brigid's family descends for Thanksgiving dinner.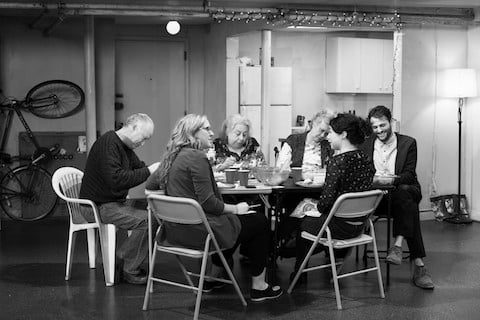 The party includes her mom Deirdre (Jayne Houdyshell, a quiet marvel), her dad Erik, and her sister Aimee (Cassie Beck and Reed Birney, both excellent). Also along is Erik's mostly vegetative mother, "Momo" as they call her (Lauren Klein), who is confined to a wheelchair and whose bad days have started to outnumber the good. In addition to three generations of the Blake family, the apartment presents its own sinister character — between the thunderous clomps coming through the ceiling and a series of power failures, the building half threatens to come crashing down around them.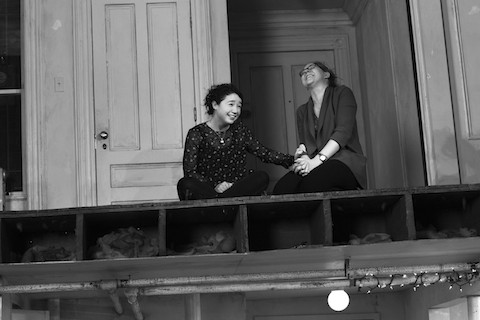 The near windowless surroundings lend the play a somewhat otherworldly, subtle claustrophobia. Even in the family's everyday, back-and-forth banter, there is a constant, pressing sense of life's limits — relationships don't last, money runs out, dreams don't often come true, and yes, we're all going to die. Not exactly lighthearted dinner conversation, but the sort of truths that often surface around those who see through all your BS, and with whom you share a lifelong shorthand.
Under Joe Mantello's expert direction, the play walks a delicate line between a natural sort of comedy and a surreal, foreboding drama. For every pleasantry or moment of easy kinship there's a masked slight or a proof of distance — and the ultimate sense that, when it comes down to it, each of us is alone in our own experience. Life is made of messy relationships, but it's also lonely as hell.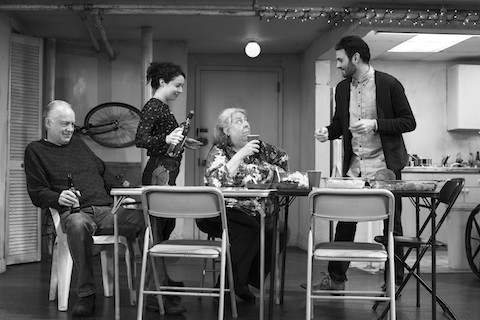 The premise of a clan reuniting for Thanksgiving may be far from original, but Karam's characters are so specific and simultaneously recognizable that you may not only get wrapped up with them, but wind up reflecting on yourself and your own life in the process.
Recent theatre features…
Bedlam's 'Sense & Sensibility' Delights Off-Broadway: REVIEW
Backstage Farce 'Noises Off' Opens on Broadway: REVIEW
Towleroad's Top 10 Plays and Musicals of 2015
Cynthia Erivo Soars in Broadway's 'The Color Purple' with Jennifer Hudson and Danielle Brooks: REVIEW
Follow Naveen Kumar on Twitter: @Mr_NaveenKumar (photos: brigitte lacombe)