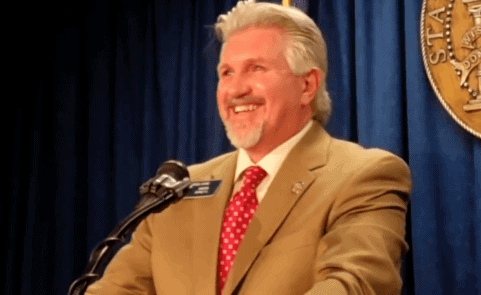 Bills that would sanction rampant discrimination against gay couples and their children — as well as straight people who've had sex out of wedlock — advanced in both Georgia and Virginia on Tuesday.
The so-called First Amendment Defense Acts (or FADAs) are considered more dangerous than Indiana's anti-LGBT Religious Freedom Restoration Act (RFRA) of 2015. In fact, the FADAs have been referred to as "RFRA on steroids."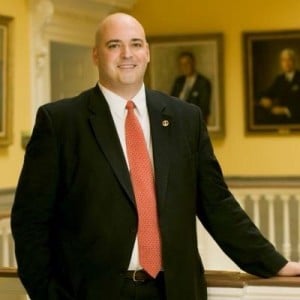 Virginia's FADA is unlikely to become law because it lacks the support of a veto-proof majority and the state has a Democratic governor, but the same cannot be said for Senate Bill 284 from Georgia GOP Sen. Mark Kirk (above), a former Southern Baptist pastor. After delaying action on SB 284 last week, the Senate Rules Committee on Tuesday combined it with another so-called "religious freedom" measure, the Pastor Protection Act, before sending it to the full Senate, according to Project Q Atlanta.
"I listened to the concerns of the faith community, the business community and the LGBT community and I truly believe this legislation protects all individuals," Kirk told the committee. "The bill I bring before you today is not a perfect bill but it is a bill very much needed to protect those who have given their life to ministry."
Kirk's FADA is essentially a state version of a proposed federal law designed to give virtually every individual and entity — from government employees and contractors to nonprofits groups and for-profit businesses — a license to discriminate against same-sex couples and their children.
SB 284 would prohibit government from "taking discriminatory action" based on a person's belief that "marriage is or should be recognized as the union of one man and one woman" or that "sexual relations are properly reserved to such a marriage." In other words, SB 284 would allow any "person" — which the bill defines as "any individual, corporation, partnership, proprietorship, firm, enterprise, association, public or private organization of any character, or other legal entity" — to discriminate against gay couples, their children, single parents, unmarried couples, pregnant women and others, based on religion.
Lambda Legal has called Kirk's bill "divisive" and "dangerous," saying it would unleash "legal havoc" and effectively treat for-profit businesses like churches. The Human Rights Campaign called SB 284 "despicable" and "reckless," adding that it "threatens to create a breakdown of state government services."
In Virginia, House Bill 773, by GOP Del. Todd Gilbert (above right), cleared the House in a 53-46 vote. According to The Washington Post, Gilbert told lawmmakers they needed to act to prevent discrimination against people of faith, who are "constantly under attack by the shifting cultural winds."
"The activists who pursue same sex marriage … are not satisfied with equality and they will not be satisfied until people of faith are driven out of this discourse, are made to cower, are made to be in fear of speaking their minds," Gilbert said. "They want us driven out."
Openly gay Democratic Del. Mark Sickles told lawmakers that even though HB 773 has little chance of becoming law, Tuesday's vote still mattered.
"Your kids will be looking back on what you do today and how you vote on this bill," Sickles said.