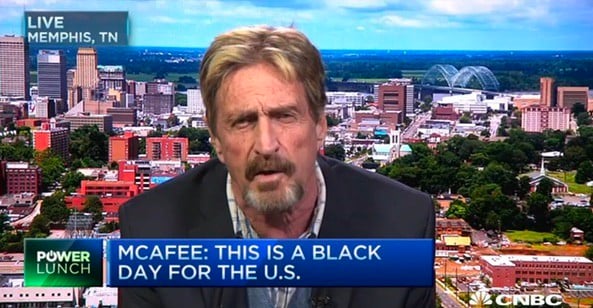 Cybersecurity expert John McAfee predicts dire things for the nation if Apple is compelled by the FBI to create a backdoor to the iPhone, saying that if it happens "it is the beginning of the end of America."
McAfee, who has made an offer to the government that his team will hack into the San Bernardino terrorist's phone for free, explains that a universal backdoor is far more dangerous in that hackers, foreign countries, and all the wrong people will be able to gain access to private information.
Says McAfee:
"There has never been a backdoor that has not been hacked into by bad hackers or foreign nations. So really, what the government is asking Apple to do is to make every individual who uses an iPhone susceptible to hacking by bad people."
McAfee warns of a coming cyberwar and says the U.S. is 20 years behind in preparing to fight it, and explains why the backdoor creates a world that is much more dangerous for individuals and the country as a whole.
"We cannot allow forced backdoors into software. It will be the end of us. I assure you…Look at Tim Cook's comment…We as Americans have to stand behind Tim Cook and Apple else we are going to be in a world of hurt. We are. Yes [the White House is] absolutely wrong."
Watch: