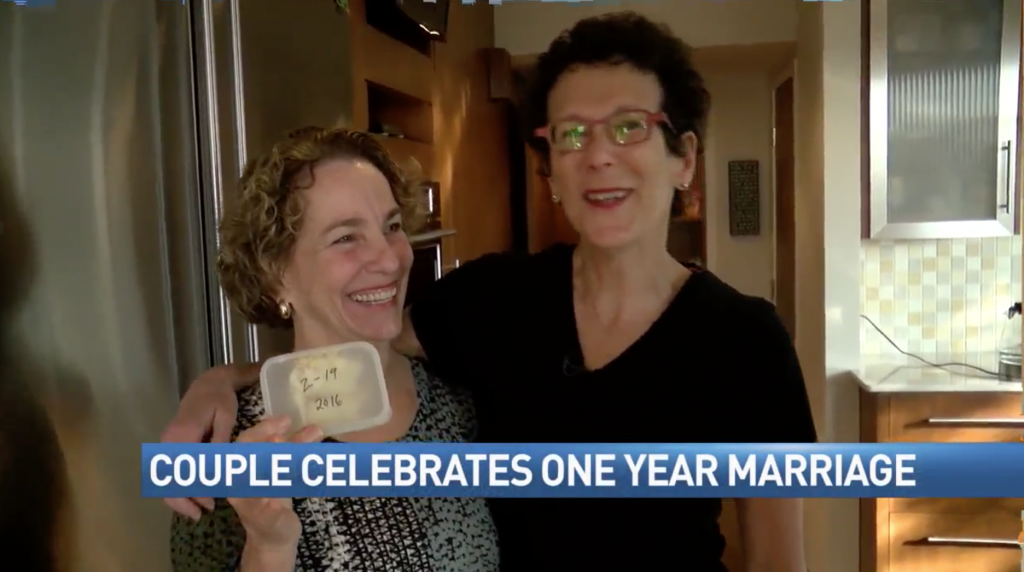 Four months before same-sex marriage became legal in Texas, longtime lesbian couple Suzanne Bryant and Sarah Goodfriend of Austin tied the knot.
In part because Goodfriend had been diagnosed with ovarian cancer, state District Judge David Wahlberg barred the Travis County Clerk's Office from enforcing Texas' same-sex marriage ban, which he declared unconstitutional, forcing officials to issue the couple a license.
Today, Bryant and Goodfriend, who've been together for 30 years and have two daughters, are celebrating their one-year anniversary — by eating a piece of cake they saved from their wedding last year (above). Best of all, Goodfriend is cancer-free.
"We were able to give people hope. There were so many people that wanted pictures with our certificates and it's because they wanted one of their own," Goodfriend told Austin's KEYE-TV for a story that aired Thursday. "The time was right and the world was ready.
"I especially want to say to those who are in charge of those enforcing the law, come on, quit playing politics, let's just enforce the law," Goodfriend added.
Those people include Republican Attorney General Ken Paxton, whose office is still fighting to un-marry Bryant and Goodfriend.
After obtaining a stay of Wahlberg's decision from the Texas Supreme Court, the AG's office sought a ruling voiding the couple's marriage, but the court hasn't yet acted on that request. And despite the U.S. Supreme Court's ruling in Obergefell v. Hodges, Paxton's office has declined to drop the case.
Although Bryant and Goodfriend certainly made history, technically they weren't the first same-sex couple to marry in Texas. That distinction probably belongs to Antonio Molina and William "Billie" Ert, who obtained a marriage license on Oct. 5, 1972.
Ert, who performed as a drag queen named Mr. Vicki Carr, wore a wig, make-up and a dress to the clerk's office in Wharton County, outside of Houston — tricking officials into issuing the couple a license.
Two days later, Molina and Ert held a ceremony in Houston, but by then their same-sex marriage had made national headlines, and the clerk declined to record the couple's license.
Watch KEYE-TV's report below.