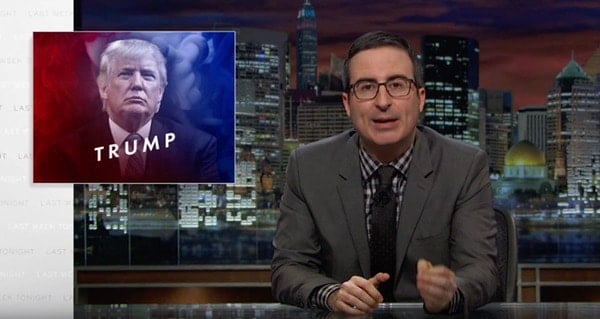 John Oliver has kept his mouth shut about Donald Trump thus far in the election season, but last night delivered a brutal takedown of Donald Drumpf, which Oliver points out was the Trump family's original name.
 "Drumpf is much less magical. It's the sound produced when a morbidly obese pigeon flies into the window of a foreclosed Old Navy. Drumpf. It's the sound of a bottle of store-brand root beer falling off the shelf in a gas station minimart. And it may seem weird to bring up his ancestral name, but to quote Donald Trump, he 'should be proud of his heritage' … because Drumpf is much more reflective of who he actually is."
Oliver's segment is a step-by-step debunking of Trump's talking points and exaggerations, from his claims of being "tough", to the self-funding of his campaign, to his "success" in business:
"Over the years, his name has been on some things that have arguably been very un-good, including Trump Shuttle, which no longer exists; Trump Vodka, which was discontinued; Trump Magazine, which folded; Trump World Magazine, which also folded; Trump University, over which he's being sued; and of course, the travel-booking site GoTrump.com, whose brief existence was, I imagine, a real thorn in the side of anyone hoping GotRump.com featured a single thing worth masturbating to."
He's a man who "gives the appearance of wealth, but is actually a cheap tool."
Oliver starts the segment by saying he can't believe he's doing it. Why?
"I say that knowing every time his name is said out loud, he has a shattering orgasm…At this point, Donald Trump is America's back mole. It may have seemed harmless a year ago, but now that it has gotten frighteningly bigger, it is no longer wise to ignore it."
He says he expects a lawsuit from Trump this morning.
Watch: