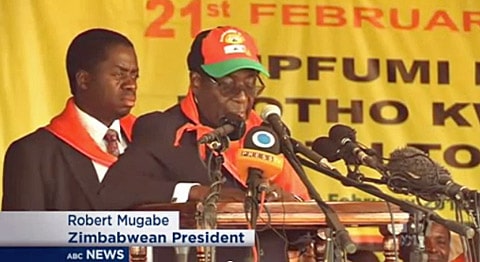 Despite a request for $1.6 billion in aid to help feed millions facing famine, Zimbabwe President Robert Mugabe has said that Western countries can keep their money if it comes with the proviso that he must address the issue of LGBT rights.
Mugabe – who has spoken out in support of anti-gay laws in Uganda – made the comments during a televised public event to mark his 92nd birthday.
According to New Zimbabwe, he said:
"The youth must continue protecting our moral dignity of African people despite the pressures that are coming as a result of globalization…Never ever accept that a society can condone marriages of man to man, a woman to woman. The so-called gays…have no place in our society."
He continued that if aid is based on the basis of gay rights, "then let aid stay where it is. We don't want it. It's rotten aid, filthy and we don't want anything to do with it. And they should not come to our country anyway."
At his 88th birthday celebrations in 2012, Mugabe threatened U.K. Prime Minister David Cameron over Britain's support for LGBT rights.