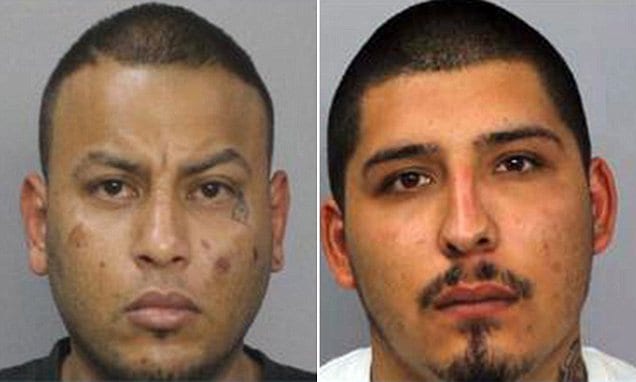 While savagely beating him with a frying pan, coffee mug, belt, chair and handgun, Ramiro Serrata Jr. (left) and Jimmy Garza Jr. allegedly poured bleach in their victim's face and eyes. But their brutality did not end there.
During a three-hour torture session in 2012, Garza and Serrata also forced the victim to strip naked and clean up his blood, and sodomized him with a mop or broom. Throughout the ordeal, Garza and Serrata taunted the gay, black man with racial and homophobic slurs — before he finally escaped by jumping out a second-story window.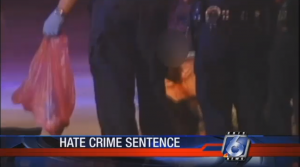 On Wednesday, a federal judge in Texas sentenced Garza and Serrata to the maximum, 15 years in federal prison, after they each pleaded guilty last year to one count of conspiracy to commit hate crimes and one count of a hate crime based on the victim's sexual orientation. They will also be required to pay $10,800 in restitution, serve three years of supervised release, and register as sex offenders.
"I cannot imagine the brutality it must take to commit the crime you committed," U.S. District Judge Hayden Head told the defendants, according to The Corpus Christi Caller Times. "This type of brutality … words fail me except to say it's inhuman and disgusting." "You were born human," Head told them. "You abandoned your humanity for the viciousness of animals."
The victim also entered a statement before Hayden sentenced Garza and Serrata, the Caller Times reports.
"I am two-fold devastated by the hateful nature of the attack," he said. "Firstly, as a homosexual man in America, to be sodomized, in and of itself is egregious; but even more degrading was, as an African American, to be whipped like a slave."
"I was totally unrecognizable," the victim said. "It damaged my ego. I eventually stopped looking in the mirror.
"I was already a recreational drug user but in the immediate aftermath of my attacks, my drug use was off the charts," he said. "I stopped caring about my life in general."
Principal Deputy Assistant Attorney General Vanita Gupta, head of the Justice Department's Civil Rights Division, said the sentencing "makes clear that assaults based on bias and hate will not be tolerated in this nation," according to The Washington Post. 
"These crimes violate both our civil rights laws and most basic national value," Gupta said.
Serrata apologized for his role in the crime, but Garza did not, according to the Caller Times.
A third defendant, Carlos Garcia Jr., also pleaded guilty in the case to making false statements to a law enforcement officer and is awaiting sentencing.
Watch a report from KZTV Channel 10 below.