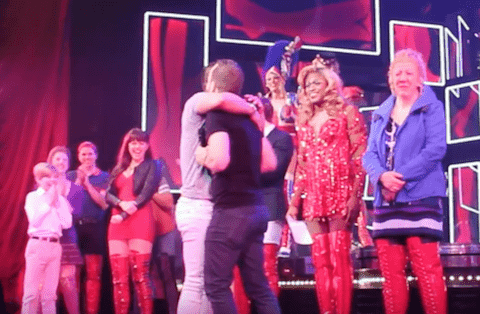 Love was in the air at the Hirschfeld Theatre on Valentine's Day when two men took the stage following the Kinky Boots curtain call for a very special proposal.
"I love you so much," Devon Patane told his boyfriend Wilson Chaikittirattana. "You're the most amazing thing that has ever happened to me and I don't know what I'd do without you." Patane then dropped to one knee and popped the question in front of the packed audience. Chaikittirattana accepted, and the crowd went wild.
According to The New York Daily News, Patane arranged for the surprise proposal because the couple fell in love with the show after seeing it in Boston. Kinky Boots star Wayne Brady invited the pair on stage under the premise they'd been randomly selected.
You can watch the whole proposal in the video below.