PIECE OF ME. Britney Spears wants "a hot nerd…with a really big penis."
PRIMARY. Bernie Sanders campaign takes down tweet responding to Hillary Clinton's remarks on racial inequality.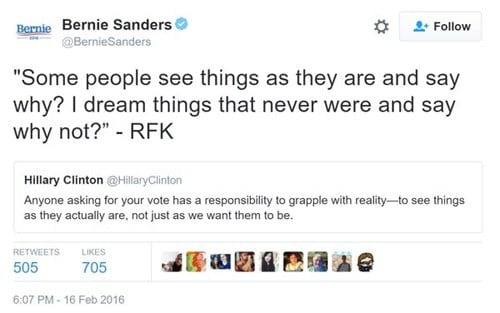 GRAMMYS. David Bowie's son was apparently not impressed with Lady Gaga's tribute to his father.
TECH. Apple issues letter vowing to resist FBI's demand that they crack iPhone linked to San Bernardino attacks: "We have great respect for the professionals at the FBI, and we believe their intentions are good," Apple chief executive Tim Cook said in a strongly worded open letter posted late Tuesday on the company's website. "Up to this point, we have done everything that is both within our power and within the law to help them," it continued. "But now the U.S. government has asked us for something we simply do not have, and something we consider too dangerous to create. They have asked us to build a backdoor to the iPhone."
BRITS. Jude Law and Colin Firth look handsome and dapper at the Berlinale Film Festival. 
WOOF. This dog did not come to the Westminster Kennel Club Dog Show for the trophy. 
RIGHT WING. Nearly one third one Trump's supporters in South Carolina support a ban on all homosexuals entering the United States, according to new polling from Public Policy Polling: "31% would support a ban on homosexuals entering the United States as well, something no more than 17% of anyone else's voters think is a good idea."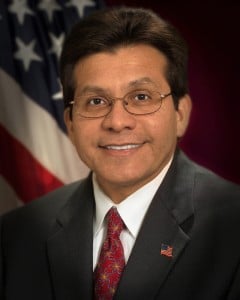 OBSTRUCTION. Former Attorney General and White House Counsel Alberto Gonzales says it is not "standard practice" to block judicial appointments in election years: "If there is such a standard practice within the Senate, it's one that I'm not aware of and I was not made aware of when I was White House counsel or as attorney general."
OOPS. Jeb Bush forgot to renew his website name so now JebBush.com redirects to website for Donald Trump. 
BDSM. Should 'Scalia' be the new universal safeword? Dan Savage explains, "It's an entirely proportionate sign of disrespect."
ITALY. Italian vote on same-sex civil unions stalls: "The parliamentary debate was suspended after a raucous three-hour discussion during which tempers flared and lawmakers hurled insults. 'We won't permit stadium chants,' said Pietro Grasso, the president of the Senate, who adjourned discussion until Wednesday morning on the request of several senators. Tuesday's discussion got bogged down over the admission of a government amendment that would effectively quash other proposed amendments to the bill."
SCIENCE. Can quantum gravity be tested by LIGO (The Laser Interferometer Gravitational-Wave Observatory)? Probably not. "A gravitational wave consists of a huge number of gravitons, but measuring the individual constituents is extremely difficult and well beyond our experimental capabilities. LIGO doesn't resolve single gravitons for the same reason a TV antenna doesn't resolve single photons: if there is a signal, the detector is swamped with particles and not sensitive to the tiny, discrete steps in energy. If gravitons exist, LIGO detects them, but it cannot distinguish the huge amount of gravitons from an unquantized gravitational wave. Therefore, LIGO cannot not tell us anything about the existence of gravitons."
INSTAGRAM. Hump Day Hottie.
https://instagram.com/p/BA5r27utwFj/