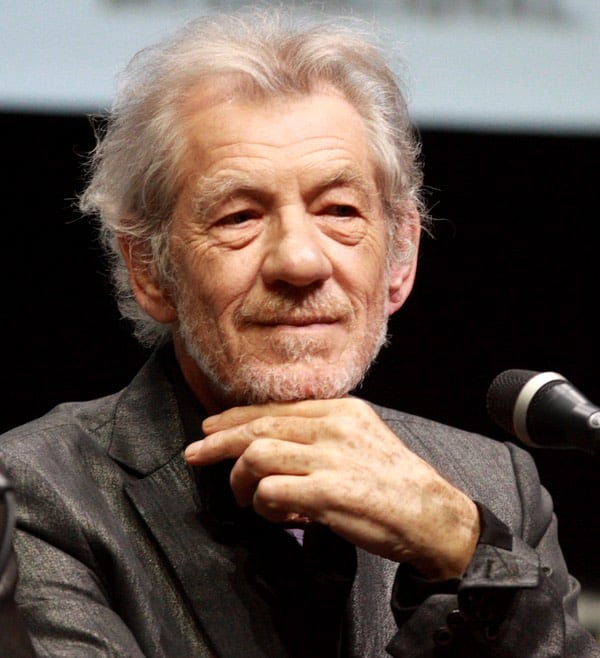 Sir Ian McKellen has weighed in on Sam Smith's gay gaffe during Sunday's Oscars broadcast that set off a firestorm on Twitter.
After winning the Oscar for best original song, Smith said,
"…I read an article a few months ago by Sir Ian McKellen and he said no openly gay man had ever won an Oscar. And if this is the case, even if it isn't the case, I want to dedicate this to the LGBT community all around the world. I stand here tonight as a proud gay man and I hope we can all stand together as equals one day."
.@SamSmithWorld: "I hope we can all stand together as equals one day." https://t.co/vG5LjQdCo9 #Oscars https://t.co/bACtLSviUU

— ABC News (@ABC) February 29, 2016
Social media users were quick to correct Smith–openly gay men have won Oscars before but not in any acting categories, which is what Ian McKellen was talking about in his interview with The Guardian that Smith referred to during his acceptance speech. From that article: 
"No openly gay man has ever won the Oscar; I wonder if that is prejudice or chance," he said, with the implication that he felt it tended towards the former.
Tom Hanks, Philip Seymour Hoffman and Sean Penn have all won best actor Oscars for playing gay men. "How clever, how clever," said McKellen. "What about giving me one for playing a straight man?
"My speech has been in two jackets … 'I'm proud to be the first openly gay man to win the Oscar.' I've had to put it back in my pocket twice."
On Monday, McKellen corrected Smith but also congratulated him on his win. Posting on Twitter, McKellen said, "I'd said no openly gay actor had received #Oscars-that doesn't detract from @samsmithworld achievement. Congratulations to him & all others!"
I'd said no openly gay actor had received #Oscars-that doesn't detract from @samsmithworld achievement. Congratulations to him & all others!

— Ian McKellen (@IanMcKellen) February 29, 2016
Oscar-winning screenwriter Dustin Lance Black (Milk) was one of those on social media who called out Smith for his inaccurate comments. Black tweeted at Smith with a video of his Oscar speech, adding: "Hey @SamSmithWorld, if you have no idea who I am, it may be time to stop texting my fiancé."
https://twitter.com/DLanceBlack/status/704199543076818944?ref_src=twsrc%5Etfw
Black then tweeted, "THE POINT: knowing our LGBTQ history is important. We stand on the shoulders of countless brave men and women who paved the way for us."
THE POINT: knowing our LGBTQ history is important. We stand on the shoulders of countless brave men and women who paved the way for us.

— Dustin Lance Black (@DLanceBlack) February 29, 2016
At an Oscar after party on Sunday, Smith tried to correct himself by saying, "I think I'm the second openly gay person to win it."