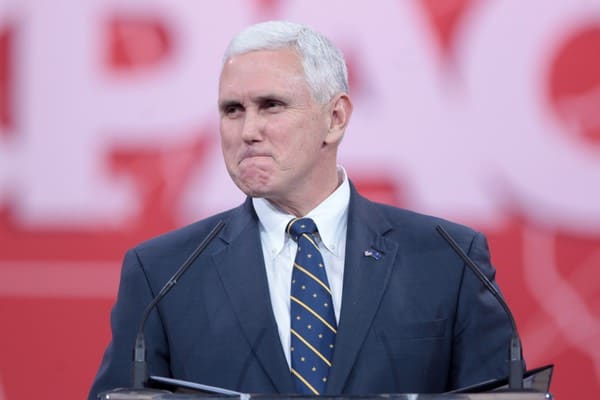 Indiana Governor Mike Pence said on Thursday that while he believes no one should be fired "for who they are or who they love", he will defend so-called "religious freedom" because he believe it's in keeping with the state's constitution.
Pence was asked at a Town Hall in Kokomo, Indiana about LGBT rights, a subject that's been a hot button issue in the Hoosier state since Pence signed the aggressively anti-LGBT Religious Freedom Restoration Act into law last year. The audience member, who presumably was a pastor given Pence's response, said to Pence, "A simple yes or no answer. Do you believe that gay and transgender people should be able to be fired from their jobs just for that reason?"
After a long pause and some applause from the audience, Pence responded,
"I don't think anyone should ever be discriminated against because of who they are or who they love. My position is, as I expressed in my State of the State address and did again today, is we are a state with a constitution. And as you know as a pastor, that constitution has very strong safeguards for the freedom of conscience and freedom of religion of Hoosiers. And my strong conviction is that should the general assembly put legislation on my desk which they considered this year…[iomust be consistent with the constitution. But I will not support legislation that diminishes religious freedom. I hope you hear my heart a little bit as much as my head on this."
LGBT rights group Freedom Indiana was less than pleased with Pence's response:
Did he finally give a yes or no answer? Hardly. Once again, the Governor tried to have it both ways. After more than a year of this issue dominating public discourse and his promise to give it thorough consideration, Governor Pence STILL can't answer a very simple, straight-forward question.
…even if he refuses to answer, Hoosiers won't stop asking the obvious question. If the Governor truly believes, as he said today, that "no one should ever be discriminated against," then why does he flat-out refuse to support a simple solution to add "sexual orientation, gender identity" to our state's civil rights law.
Watch Pence's remarks below: