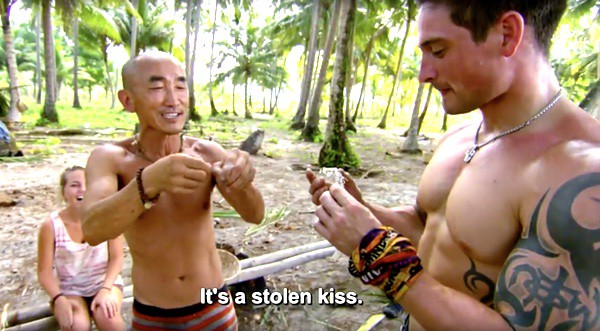 Survivor is now in its 32nd season and has featured some 'bromances' in its past, but the one that's taking off in the current season, set in Kaoh Rong, Cambodia, is turning out to be most entertaining.
Tai Trang, a 51-year-old gay gardener who fled Vietnam with his family during the war, survived 11 days on the open ocean, and ended up in an Indonesian refugee camp, has become one of the season's most intriguing characters.
And he's apparently got a crush on 28-year-old Caleb Reynolds, the super-buff army veteran from Kentucky, who you might recall from Big Brother. Their tribe describes them as an "old married couple."
Survivor producers are turning theirs into a relationship to watch, and have put it on full display in a clip from last night's episode, in which Tai tries to get Caleb to try eating fish eyes for the first time.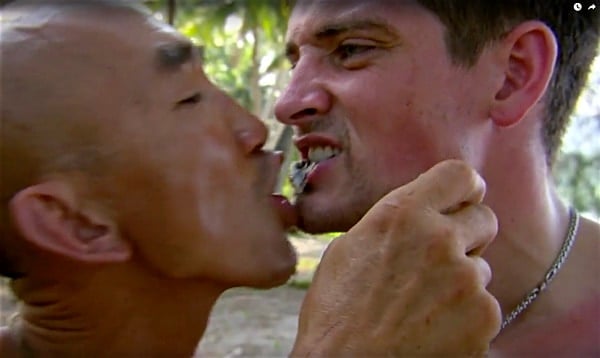 Says Caleb, who has spent nights cuddling with Tai in their shelter, "There is no such thing as homophobe in this guy right here. I like hanging out with him because he is one of a kind for sure."
Watch
https://www.youtube.com/watch?v=macCC69vIo8
Those familiar with Big Brother may know that Caleb has been accused of being homophobic in the past, so Caleb's statement is interesting in that light. Reality TV is an editor's game, really, so Survivor will do as it pleases to craft its storylines. So far here, they're showing off a pretty accepting side of Caleb.