Three national organizations yesterday filed a federal consumer fraud complaint against an "ex-gay" organization that "seeks to support and guide men who seek to transition away from unwanted homosexuality."
The complaint against People Can Change – the group offering the controversial "Journey Into Manhood" camp – was made by the National Center for Lesbian Rights (NCLR), the Human Rights Campaign, and the Southern Poverty Law Center.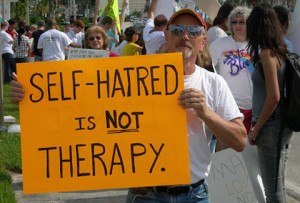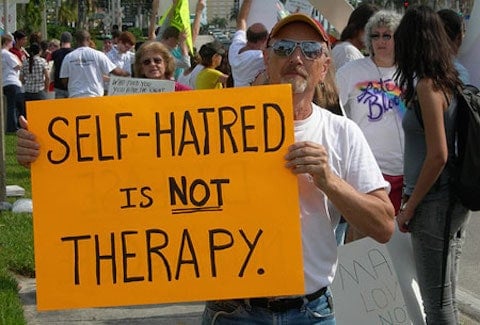 Filed with the Federal Trade Commission, the complaint aims to expose the pseudoscience used by PCP's "ineffective and dangerous 'conversion therapy' practices that have for decades been linked to serious harm, including depression, substance abuse, and even suicide."
The three groups are asking the FTC to stop PCP's misleading "deceptive practices and investigate all practitioners making similar claims."
They allege that PCP is in violation of the FTC's guidelines because it defrauds customers, makes false claims about the scientific basis of its services, targets and exploits vulnerable groups including LGBT youth, and uses unsubstantiated endorsements to attract and charge clients.
NCLR #BornPerfect Campaign Coordinator Samantha Ames said:
"Today, after decades of advocacy, the voices of conversion therapy survivors have carried all the way up to the highest levels of government. This historic complaint is not only the first clear opportunity the Obama Administration has had to end these deadly practices for good, but, if investigated fully, could very well be the final nail in the coffin of the entire conversion therapy industry. We sincerely look forward to working with the Federal Trade Commission to investigate this fraudulent and unethical organization – along with every trusted professional who profits from the anguish of LGBTQ youth and their families. But, even more so, we look forward to the day when every human being, no matter their sexual orientation or gender identity, knows they were born perfect."
Read the complaint:
Last December, a Superior Court of New Jersey judge ordered "ex-gay" group Jews Offering New Alternatives to Homosexuality (JONAH) to shut down and forbid the organization from engaging in any form of conversion therapy.
In three parts, watch the Vice documentary on gay conversion therapy below.