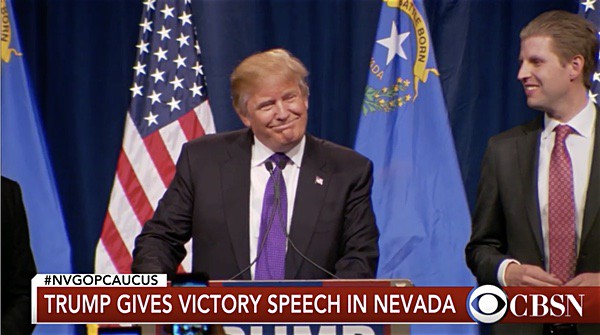 Donald Trump was the winner of last night's Republican presidential caucuses in Nevada, positioning himself for Super Tuesday next week.
With results still trickling in late Tuesday night, Florida Sen. Marco Rubio appeared poised to claim the crucial second-place slot, edging out Texas Sen. Ted Cruz. As of 2:45 a.m. ET, NBC News had allocated 22 of Nevada's 30 delegates — with 12 going to Trump and 5 each for Rubio and Cruz.
The five remaining Republican candidates have less than a week until the Super Tuesday contests on March 1. The so-called "SEC primaries" present a massive haul of 595 delegates up for grabs across 11 states, which is likely to winnow down the field of candidates battling for the GOP nomination.
Officials said Nevada become the fourth consecutive state to see Republicans hit record turnout.
Watch Trump's victory speech: