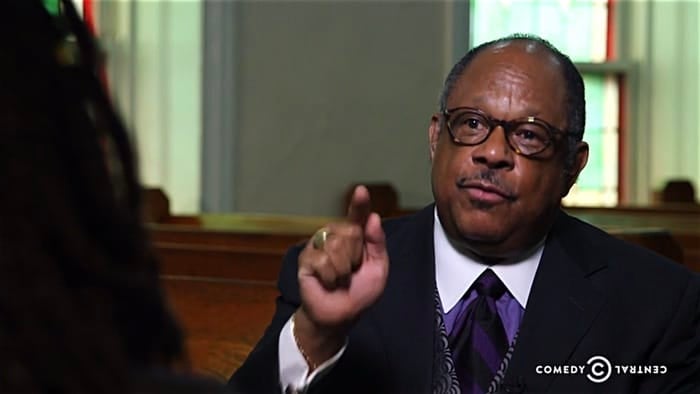 Earlier this month we reported that The Ali Forney Center, NYC's largest shelter for homeless LGBT youth, had reached the crowdfunding goal that will help it make a competitive bid for Pastor James David Manning's Harlem Hate church (ATLAH), from which he has spewed anti-LGBT hate for years.
The Daily Show, which has produced segments on Manning before, most notably one covering his claim that Starbucks puts semen into its lattes, paid a visit to the Harlem Hate church to get a response from Manning about his looming foreclosure and Ali Forney's plan to turn the church into a homeless shelter.
"The sodomites are coming to Harlem to look for 'black meat'," Manning told The Daily Show's Jessica Williams. "They've got 'jungle fever.'"
Manning also reasserted his claim about Starbucks and its semen lattes.
"Where is Starbucks getting all this semen from? Because that's a massive operation,"Williams asked. And what are the chances that the LGBT community will take over the church?
Said Manning:
"Before this church is foreclosed on, sodomites will carry babies in their testicles for nine months and then gestate them out of their a**holes."
Watch: