INTERIOR DESIGN. Tim Gunn shares his favorite part of his apartment.
Thanks @housebeautiful for featuring my favorite place in my apartment –my stairwell! #myhousebeautiful March issue! pic.twitter.com/WR1iHRUagH

— Tim Gunn (@TimGunn) February 9, 2016
I JUST ADORE A PENTHOUSE VIEW. Zsa Zsa Gabor was hospitalized only 2 days after turning 99.
MOVIES. Tom Hiddleston gets naked again in new trailer for film High Rise.
BEYHIVE. Red Lobster reports boost in sales following release of Beyonce's new track "Formation" in which she sings, ""When he f*ck me good I take his a** to Red Lobster."
THE GREAT WHITE WAY. Frozen: The Broadway Musical will reportedly open in 2018.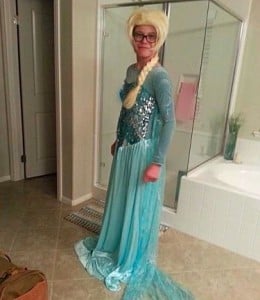 LET IT GO. Speaking of Frozen, an eighth grade student was told by his principal to remove the Elsa costume he wore to school on Disney day: "A statement from Romoland School District Superintendent Dr. Julie Vitale read in part: 'This action was taken in accordance with district policies. At no time was there an indication that the student was expressing any particular message. The Principal's action was based upon the need to stop a general disruption to the school environment,' Vitale stated."
SOUTH DAKOTA. Lawmakers pass bill that bans trans high school students from participating in school athletics: "The bill's sponsor is GOP Rep. Roger Hunt, who last year, speaking on the legislation, insistedthat this 'is South Dakota. We haven't adopted the East Coast culture. We haven't adopted the West Coast culture. We maintain our own culture.'"
ELIZBAETH WARREN. A deep dive on that video circulating on social media of the senior U.S. senator from Massachusetts discussing Hillary Clinton's vote on the banking bill. 
CONFESSIONS OF AN INTERNET TROLL. Featuring a papier-mâché Man in the Iron Mask mask.
https://www.facebook.com/VICE/videos/1201969369836319/
KENTUCKY. Man chases after daughter with knife after she comes out as gay: "Police say when they spoke with Wright, he was 'angry and agitated.' He 'ranted about his daughter being a lesbian throughout the interaction' and admitted to having a knife. Police found the weapon in Wright's kitchen and arrested him for Aggravated Assault With a Deadly Weapon."
CASTING. Kristen Stewart will reportedly play notorious literary hoax J.T. LeRoy in upcoming film from I Am Michael director Justin Kelly. James Franco is also attached: "The true story goes behind the scenes of the hoax of JT LeRoy, a woman who pretended to be a man who identifies as transgender, tricking the rich and famous in Hollywood, the fashion world and elite literary circles. The biopic will be based on memoir and life rights of Savannah Kroop, who was behind the complicated ruse."
INSTAGRAM. Meet Instastud xavierramoneda.
https://instagram.com/p/4_9EXXPtfA/