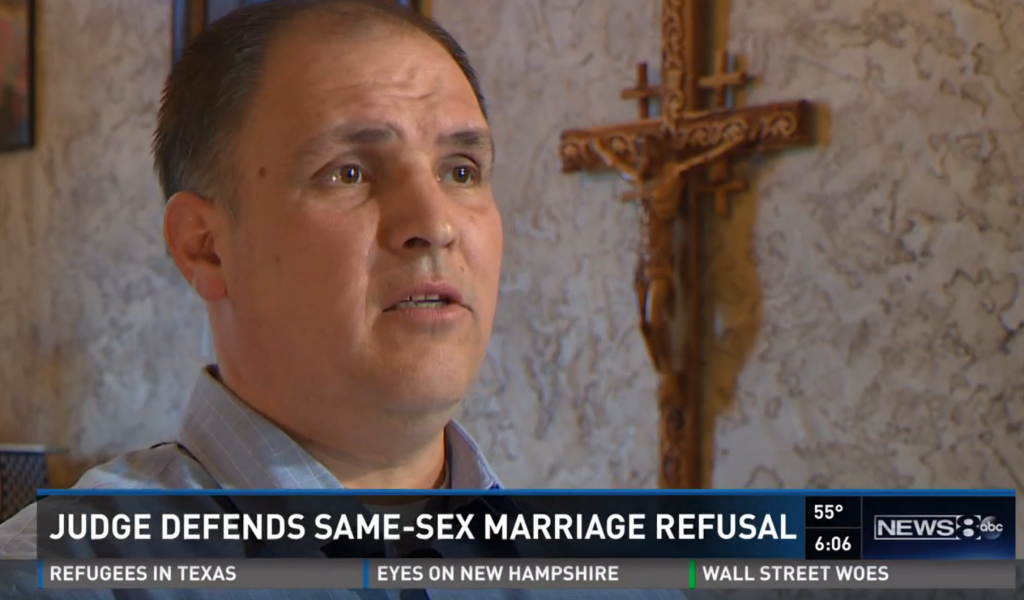 Last week, we told you how Republican Dallas Justice of the Peace Bill Metzger posted on Facebook that he refuses to officiate same-sex weddings, which would be a blatant violation of both federal law and Texas' Judicial Code of Ethics.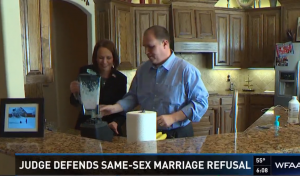 Now, we all know that sitting behind your computer and typing on a keyboard takes a tremendous amount of courage. And after making the post, Metzger was apparently so drained that he went into hiding and didn't comment publicly on the issue for several days.
By Monday, however, Metzger's massive ego was getting hungry for more publicity, so he agreed to an interview with WFAA-TV.
In the interview, which features bizarre B-roll of Metzger and his wife making a strawberry smoothie (what a fruit!), he reiterates his absurd claim that a nonbinding opinion from Republican Texas Attorney General Ken Paxton somehow trumps the U.S. Supreme Court's decision in Obergefell v. Hodges. Paxton, mind you, is facing an ethics complaint of his own for issuing the opinion, in addition to first-degree felony charges for securities fraud.
However, Metzger also acknowledged that no same-sex couple has requested that he marry them. And, when asked what he would do if and when a same-sex couple challenges his stance, Metzger told the station he "doesn't have a crystal ball."
In other words, it sounds as though Metzger — who happens to be gay for Sen. Ted Cruz — might turn out to be all hat and no cattle.
What a shame, those of us here in Dallas were hoping for our own Kim Davis.
Watch the interview below.