The Michigan House is expected to remove an unconstitutional provision banning sodomy from an animal cruelty bill before it becomes law, the executive director of the LGBT group Equality Michigan said Tuesday afternoon.
On Monday, we told you how the Michigan Senate passed SB 291, which includes a provision stating that oral and anal sex – whether straight or gay — is punishable by up to 15 years in prison. SB 291 is part of Logan's Law, a legislative package aimed at curtailing animal abuse in the state.
The unconstitutional sodomy provision appeared in the bill because the provision is intertwined with the state's ban on bestiality. Michigan is one of at least a dozen states with sodomy bans still on the books, 13 years after they were struck down by the U.S. Supreme Court in Lawrence v. Texas.
GOP Sen. Rick Jones (above), the author of the bill, said he chose not to remove the unconstitutional sodomy language form the bill because such an amendment would be so controversial that it could kill the entire animal-cruelty law. In other words, in 2016, the subject of gay sex is still so taboo in Michigan that lawmakers are afraid to go anywhere near it.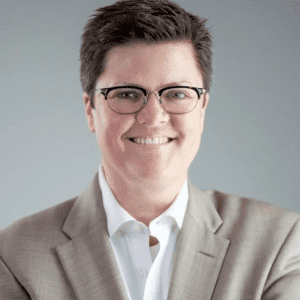 Steph White (right), executive director of Equality Michigan, said Tuesday that since learning the unconstitutional sodomy ban appeared in the bill, the group has had conversations with Democratic and Republican lawmakers about finding a "sensible solution" to the problem.
"I wouldn't say it 's a done deal until it's actually done, but we definitely have commitments from people on all sides of this debate saying we're going to address this," White told Towleroad.
Equality Michigan wrote on Facebook Tuesday that the group had "gotten word that the unconstitutional language in Logan's Law will not move forward in the House as it appears in SB 219."
However, White made clear that the solution won't include removing the unconstitutional sodomy law from the books entirely — which would ensure that this embarrassing episode doesn't repeat itself.
"I don't see them going backward and addressing other laws," White told Towleroad. "There's not much appetite for that generally. They obviously flubbed this up and should have addressed it. They thought it would be better not to, but obviously they are now."
Sen. Jones blamed the whole debacle on some sort of "misunderstanding of the legislative process."
"This (controversy) is being fueled by people who are not from the state," Jones told Michigan LGBT publication Outside the Lines. "They do not know the legislative process here and they do not know the players. As a result they have simply got the facts wrong on what was approved."
Just to clear up any confusion, here's the unconstitutional provision that was included in the bill authored by Jones and approved by the Senate: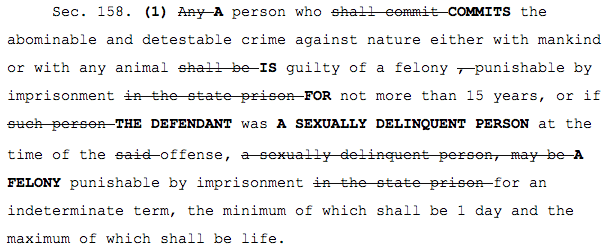 And here's what another in-state LGBT publication, OutPost, had to say about the ordeal:
What the episode lays bare is a complete lack of will on the part of many lawmakers in Lansing — even some of our friends — to go to bat for LGBT Michiganders even when they have bullet-proof political cover in the form of a ruling from the highest court in the land.
And while the slight is largely symbolic — there's been no reports of prosecutors trying to use the sodomy law in nearly a decade — it does highlight where Michigan's LGBT community stands in Lansing.
The fact that even some of our friends in the Democratic Party don't feel it necessary to stand up for their LGBT constituents tells you everything you need to know about the gay community's political clout in this state.
I mean, really? Lawmakers are more willing to improve protections for animals than they are to include LGBT people in the state's civil rights and hate crime laws? It's pathetic, really.
(It also underscores the absurdity of believing that Lansing will amend the Elliott-Larsen Civil Rights Act anytime soon.)
OutPost also shed light on Equality Michigan's reaction of the situation:
Meanwhile, some have questioned how Equality Michigan has handled the "Logan's Law" legislation.
It appeared that those at the advocacy organization found out about the bill when everyone else did, when an online report went viral Feb. 6, nine days after the vote. The first response on Equality Michigan's Facebook page around 8 p.m. that day was flippant and dismissive of the legislation, calling it "batshit crazy" and "unconstitutional foolishness." However, the post did not indicate the organization was planning to intervene in the matter in any way.
Ridicule about the bill continued online throughout the weekend and one Democratic Party activist even publicly questioned whether Equality Michigan and others were going to do anything about it. Then on Feb. 7, less than twenty-four hours after the initial post, Equality Michigan Executive Director Stephanie White gave a new response, deleting the initial comments and calling the senators' refusal to remove the sodomy ban "a missed opportunity." White then said that "staff and board members" spent the day "talking with lawmakers and legislative staff to discuss the ways that it may be addressed in House as it moves forward."
(As an aside, Equality Michigan board member Mira Krishnan also posted about the legislation Saturday, directly addressing lawmakers when she wrote, "I would call you animals, but that does injustice to the dogs and cats you are pretending to protect." Maybe she hasn't met her fellow board member Sen. Warren yet.)
Lastly, in case anyone's wondering why it even matters that sodomy laws are still on the books, or why we should bother to try to remove them, check out this piece by Carlos Maza of Media Matters.