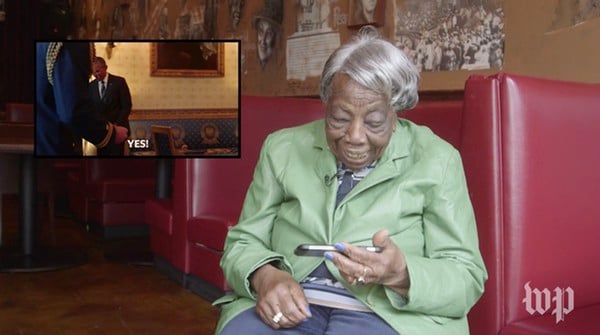 Just about everyone saw the super-viral video yesterday of 106-year-old Virginia McLaurin and her audience with the Obamas at a White House Black History Month celebration.
McLaurin began receiving calls about it early yesterday but had no way to see it herself. The Washington Post finally sat down with her:
Then finally, deep into the afternoon on Monday, McLaurin got to watch the moment that had made her famous. Her eyes were fixed on the iPhone in her lap, as she sat in a backroom of Busboys and Poets restaurant near U Street —  in front of a mural of civil rights icons. Her mouth dropped open: There she was, dancing with her beloved president. She seemed almost as amazed by the technology that was allowing her to relive it all.
"Where can I get one of these?" she asked about the smartphone video. "I wish this was mine."
For a few hours over a lunch, she reflected on her life and those precious few minutes she had fulfilling a dream she didn't even know to entertain until 2008.
The WaPo also published a deeply affecting interview, which is worth a full read. Here's part of it:
McLaurin was born in South Carolina in 1909 at a time when slavery was still a fresh memory and African American kids in the South didn't go to school past eighth grade. She married young, just 13, a fact she's bashful to share. She lived briefly with her husband in northern New Jersey before he was killed in a bar brawl, and she moved to Washington to be with her sister in 1939.
She had two children — her son has since passed, and her daughter is 83 years old — and did domestic work for families in Silver Spring, Md., and managed a laundry shop when women weren't allowed to handle the men's suits.
McLaurin still lives alone and does all her own housework, except for laundry because there are no machines in her unit. She has too many grandchildren (and great, and great-great, and great-great-great and so on) to count, but she estimates them at about 50. Her grandkids' grandchild has a baby.
As a child growing up in the South, she said she didn't imagine that there could ever be a world where white and black people were integrated.
Watch McLaurin see how she went viral: