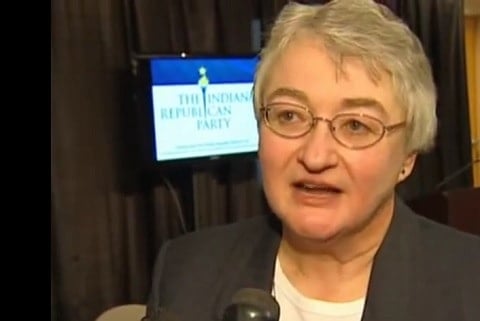 Indiana legislation aimed at protecting victims of hate crimes targeted because of their race, sexual identity, religion and other categories is expected to die because it won't get a committee hearing in the House.
The measure was introduced by Senator Susan Glick (R-LaGrange) (above) to counter Republican-led approval of a "religious freedom" law that provides opportunities to discriminate against LGBT people.
Arguing that the proposal would help to show that Indiana is a welcoming place, Glick told the Chicago Tribune that "it's really unfair for the state as a whole to be labeled as bigots because we are really not."
Although approved by the Senate, House Courts and Criminal Code Committee chairman Rep. Thomas Washburne (R-Evansville) said that panel does not have enough time to facilitate a hearing.
Bill co-sponsor Rep. Randy Truitt (R-West Lafayette), said the measure was an opportunity for Indiana to join 45 other states that have some form of hate-crime laws on the books. He added that he would not remove LGBT protections from the measure, even if that would push the bill forward.
Last Thursday, the House voted down a civil rights measure that would have protected LGBT people from discriminatory work practices.