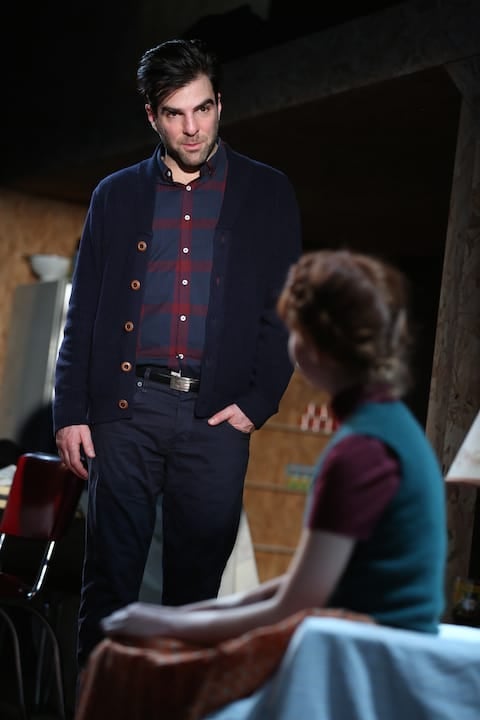 Man has been doomed since the dawn of time. (Thanks for that, Eve.) Our courage lies in trudging ahead despite knowing the dirty truth — that love and life don't last, our families often disappoint us, and yet we can't help but carry on their legacy, anyway. Noah Haidle's sometimes heady, rarely affecting Smokefall, which opened off-Broadway at MCC's Lucille Lortel Theatre last night, explores Big Ideas like these, without quite assembling them into engaging theatre.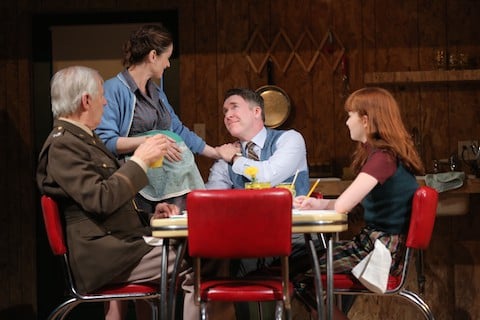 Zachary Quinto, who last appeared on stage in John Tiffany's brilliant production of The Glass Menagerie, serves as a narrator of sorts for the play's first half. In it, we meet a family: Violet (Robin Tunney, of The Craft and Empire Records fame), who's pregnant with twin boys; her husband (Brian Hutchison); her senile, veteran father (Tom Bloom); and her daughter, Beauty (Taylor Richardson).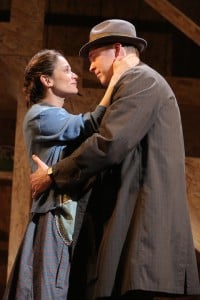 They seem like an archetypal 1950s suburban family, complete with Leave It to Beaver-style canned dialogue and a sheen of feigned content. Our first hint that they're less than typical is the reveal that Beauty eats dirt and drinks paint at meals, and has given up speaking aloud. The backstory behind such details (in this case, that these are Beauty's reactions to overhearing her father complain about living expenses and beg for peace and quiet) are shared in the form of "footnotes" by Quinto's narrator.
Indeed, all of the most interesting bits of exposition (such as they are) in what otherwise seems to be a purposefully bland opening scene likewise come in "footnote" form, from a narrator whose relation to the characters is as yet unclear. The overall effect is that rather than watching a detailed story unfold, we are told that one is happening. (You'll just have to trust Zach on this one.)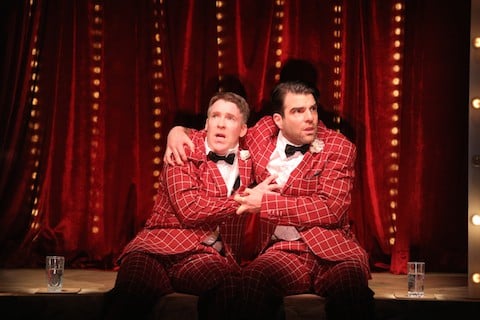 The rest of the play marks a sharp shift in style, with a philosophical vaudeville bit between Violet's twins in the womb (played by Quinto and Hutchison) and a flash-forward second act to the family's next generation, in which every character seems to have become a minor philosopher. The unsubtle symbolism of an apple tree (of knowledge) in the yard is made even plainer in Mimi Lien's set for the second act, when its branches literally breach the walls (the apples are coming from inside the house!).
The players in director Anne Kauffman's production all bring feeling to their roles (when it's called for), though whether the play itself elicits any from audiences seems like another matter. While its dialogue may give you pause to ponder Life's Big Questions — Can we escape our fate? Why do people leave us? What's love got to do with it? — the characters are rendered sufficiently remote and indistinct that their interpersonal drama is less than emotionally engaging.
Recent theatre features…
Broadway's 'The Humans' Is So Real, It's Almost Uncomfortable: REVIEW
Bedlam's 'Sense & Sensibility' Delights Off-Broadway: REVIEW
Backstage Farce 'Noises Off' Opens on Broadway: REVIEW
Towleroad's Top 10 Plays and Musicals of 2015
Cynthia Erivo Soars in Broadway's 'The Color Purple': REVIEW
Follow Naveen Kumar on Twitter: @Mr_NaveenKumar (photos: joan marcus)