HEADLINE OF THE DAY. "Ruth Madoff turned to pot, Funyuns and expensive wine to cope with Bernie," courtesy of Page Six.
TELEVISION. NBC has picked up a pilot based on Cruel Intentions.
POLITICAL PARTIES. Red states now outnumber blue states: "In 2015, the number of Republican or Republican-leaning states outranked Democratic or Democratic-leaning ones for the first time in the eight years that the polling organization has been tracking partisanship by state. Overall, 12 states are now solidly red, with another eight leaning in that direction."
FRIENDLY SKIES. FAA no longer labeling transgender pilots as "disordered": "The agency said this week that it has updated its medical guidelines for pilot testing to remove the disorder label for transgender pilots in favor of the phrase 'Gender Dysphoria.' The FAA said the new categorization will allow transgender pilots to be cleared to fly more quickly than when they were considered to have an identify disorder."
SOCIAL MEDIA. Bernie Sanders and Hillary Clinton engage in Twitter battle over what qualifies a person as a progressive.
You can be a moderate. You can be a progressive. But you cannot be a moderate and a progressive.

— Bernie Sanders (@BernieSanders) February 3, 2016
GOP. Is Jim Gilmore getting the most bang for his buck among his fellow Republican rivals?
THEATRE. Andrew Garfield to star in Angels in America in London: "In 'Angels, Garfield is set to play Prior Walter, a young New York man living with AIDS — a role played by Stephen Spinella when the drama debuted in Los Angeles at the Mark Taper Forum in 1992 and later on Broadway. (In the HBO adaptation, directed by Mike Nichols, the character was played by Justin Kirk.)"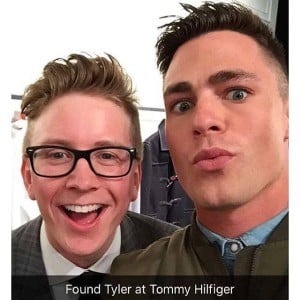 FASHION WEEK. Neil Patrick Harris, David Burtka and Colton Haynes look dapper in the front row. Tyler Oakley was there too. 
NOT A JOKE. Donald Trump has been nominated for the Nobel Peace Prize by an anonymous U.S. politician: "The nomination praised the way Trump's bellicose foreign policy ideology functioned as 'a threat weapon of deterrence against radical Islam, ISIS [Islamic State of Iraq and the Levant – Isil], nuclear Iran and Communist China', citing 'his vigorous peace-through-strength ideology.'"
HIV. New cases of HIV continue to decline in Washington, D.C.: "The report, which the D.C. Department of Health released on Tuesday, shows there were 396 new HIV cases in 2014, a 29 percent decrease from the 553 new cases reported in 2013. According to the report, the 2014 figures represent a 70 percent decrease from the 1,333 cases reported in 2007, which marked the highest number of HIV cases reported in the city."
HUMP DAY HOTNESS. Part 1 – Sam Wines.
Part 2 – Hunter Trevelyan Wyndham.
https://instagram.com/p/BAYPkKXFfvi/?taken-by=hunter_trevelyan_wyndham