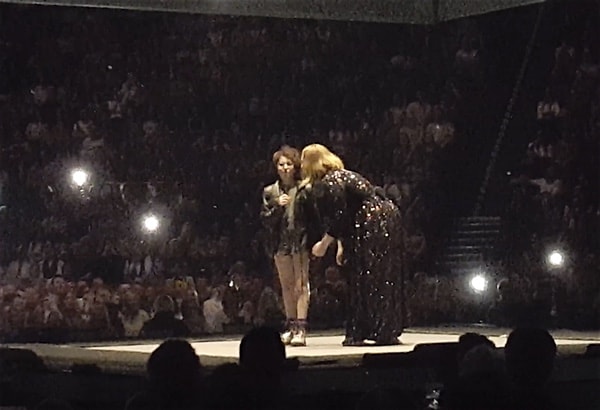 Adele was a one-woman Make a Wish Foundation on stage in Manchester, UK on Tuesday when she spotted a girl in the audience holding up a sign that read "It is my dream to sing with Adele".
The Manchester Evening News reports:
Emily, who has autism and ADHD, auditioned for Britain's Got Talent in 2014 but did not make it to the final television round.
The youngster also suffers from Ehlers-Danlos syndrome type three, which causes her limbs to be weak and she needed a wheelchair two years ago.
Emily's dad told the paper:
"Adele is her favourite singer. Luckily we were very close to the small stage in the middle – we were sat right next to the stage. She had a sign saying 'It is my dream to sing with Adele' which she held up. Right at the end at the second to last song of the night she was reading out one or two of the signs. She turned around and Emily put the lights on her sign, Adele saw it and said 'Ok come on the stage'. She came up on the stage, as I was sat there thinking 'Oh my god'. Emily went up quite happily, she loves singing. She sings every day of her life. Adele is her favourite singer and Someone Like You is her favourite song. She has a constant struggle with social situations, but amazingly she manages to sing in public. She has a different persona when she is on stage."
Watch: