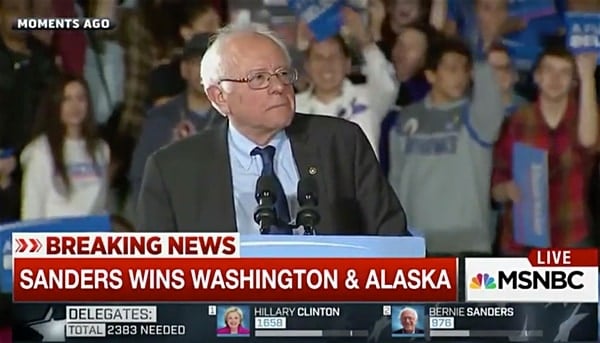 Bernie Sanders scored big wins over Hillary Clinton in Washington state and Alaska on Saturday.
in Alaska, Sanders took 82 percent of the vote over Clinton's 18 percent.
In Washington, Sanders took 73 percent over Clinton's 27.
In Hawaii, Sanders took 70 percent to Clinton's 30.
The victories in Washington and Alaska, which awarded 16 delegates on Saturday, slightly narrow the gulf with Mrs. Clinton in the quest for the 2,382 delegates needed to clinch the Democratic nomination. As of Saturday evening, Mrs. Clinton had roughly 280 more so-called pledged delegates, who are awarded based on voting, and 440 more superdelegates — party leaders and elected officials — than Mr. Sanders.
But the wins are likely to bestow on the Sanders campaign a surge of online donations with which to buy advertising in the expensive media markets of New York and Pennsylvania, which hold primaries next month. The victory will also embolden Mr. Sanders to stay in the race and continue challenging Mrs. Clinton on her ties to Wall Street and her foreign policy record.
https://www.youtube.com/watch?v=aRktX7VRJAI