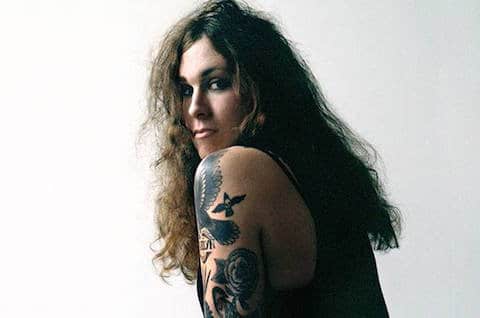 Although she might not be the first name that comes to mind when one thinks of the "Transgender Tipping Point" declared by Time Magazine in 2014, Laura Jane Grace has been blazing trails for the transgender community as the lead singer, guitarist and songwriter for punk band Against Me! since coming out publicly in 2012. While she might not have the same mainstream cachet as Laverne Cox or Caitlyn Jenner, her bold coming out in the traditionally masculine punk community was a huge stride in visibility for a scene that attracts lots of LGBT youth that feel like outsiders themselves.
Grace described the appeal of punk for her in an interview with The Independent last year: "For me, the attitude seemed more about fighting back, and I thought, 'OK, well, if I'm going to get beaten up, at least I'll get a couple of punches in.' There was also the feeling that punk rock was a place for misfits and freaks, and those were the kids I associated with. The nihilism was attractive, too. When there's a punk band singing 'No future' to you, you feel like, 'Yeah, no future. I'm never making it out of this place alive.'"
She's been incredibly candid about her journey, not only about her transition, but also her second divorce, her suicide attempt and other personal facets of her life. She's a fierce, if unconventional icon for lots of young people whose own tastes lie outside the mainstream.
See her shred in some of our favorite clips below.
Before coming out, Grace alluded to her struggles with her gender identity in Against Me! songs including "The Ocean" with lyrics like "If I could have chosen I would have been born a woman / My mother once told me she would have named me Laura / I would grow up to be strong and beautiful like her / One day I'd find an honest man to make my husband."
In her coming out interview with Rolling Stone, Grace said she was inspired to come out after meeting a transgender fan who connected with the lyrics in the Against Me! song "Searching For A Former Clarity" ("And in the journal you kept by the side of your bed…  Confessing childhood secrets of dressing up in women's clothes / Compulsions you never knew the reasons to"). Grace saw her crowd surfing at one of her shows and told Rolling Stone "When I saw her at that show, I was like, 'Fuck, yeah,' … I just found it so awesome and empowering. In a way, it showed me what a coward I was being. Because if she had the courage to come out as trans – then why the fuck didn't I?"
Grace began writing the band's sixth album, 2014's Transgender Dysphoria Blues, before coming out and originally intended it to be a concept album about a transexual prostitute living in a hotel. Grace would check into a hotel dressed as a woman and spend weeks writing. The album would become the band's highest charting (debuting at No. 23 on the Billboard 200) and appeared on year-end, best-of lists for Rolling Stone, TIME, The Village Voice, Spin, Noisey and others.
For her AOL Original Webseries True Trans, Grace chronicled her personal experience and conversations with gender variant people at all stages of their journey from various backgrounds. In the touching episode above, you see Grace with her daughter, Evelyn, discussing what it's like to be a true trans parent.
Grace's profile has been on the rise since her coming out, but she's thoughtful about taking on the responsibility as any kind of representative for the greater trans movement. "I think the focus should be on representing yourself and if you're a good representation of yourself, you'll be a good representation of 'the trans community,' she told The Huffington Post. "I'm not sure about a term like 'unified trans community,' as that's starting to sound like a league of superheroes, but I am in for the costumes if there are any. The point is that there is so much diversity in the trans community — and that needs to be represented publicly. Trans people are not cliches and there is no one way to 'do trans right' — just as much as there is no one way to 'be a real man" or to "be real woman.'