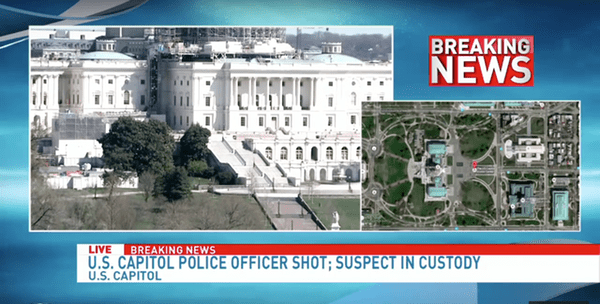 Capitol Police have reportedly taken into custody an individual who fired one shot at the US Capitol on Monday, following a lockdown that sent vistors and staffers running for shelter.
The event unfolded with Congress on recess and lawmakers back in their districts. The White House was briefly put on lockdown, but that was soon lifted.
The shooting occurred in the Visitors Center of the sprawling Capitol Complex. Staffers, reporters and others were told to "shelter in place" and not allowed to leave their offices.
NBC News is reporting that another individual was injured by shrapnel. It's not yet clear what the shrapnel was from.
Shelter in place order just went over PA systems in the Capitol. A lot of police activity near visitor center. Roads closed.

— Luke Russert (@LukeRussert) March 28, 2016
Acc to @PeteWilliamsNBC: person entered CVC, pointed gun at police officer, officer fired single shot at suspect, suspect taken to hospital

— Erika Masonhall (@ErikaMasonhall) March 28, 2016
Tourists now being led out of the Capitol. Free to leave. pic.twitter.com/0w5GyIsQYH

— Luke Russert (@LukeRussert) March 28, 2016
Capitol cafeteria workers wait in park after being escorted out of the building. pic.twitter.com/7P9KzLGQhG

— Luke Russert (@LukeRussert) March 28, 2016
Watch two news reports, below.