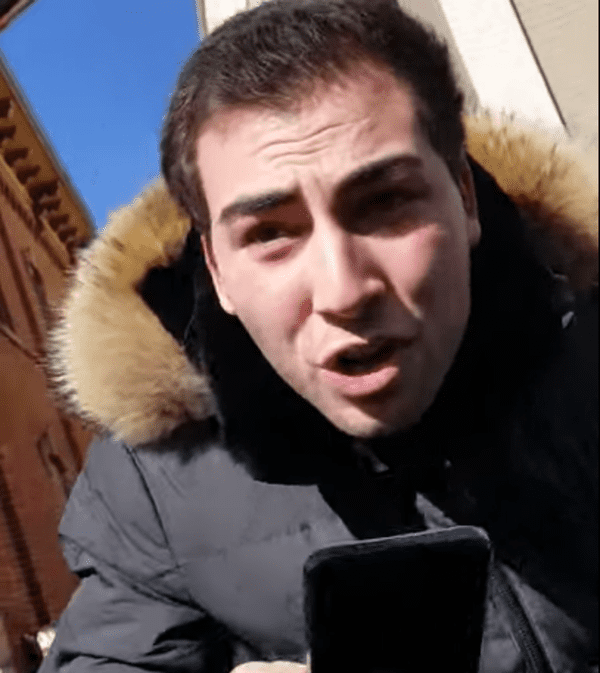 A video that reportedly shows a fraternity brother from the University of Michigan shouting anti-gay slurs at an Uber driver has gone viral.
Posted on March 23, the video has racked up over 336,000 views as of this posting. The man in the video shouts at his Uber driver,
"You're canceling us again, why? For what? See they don't give a sh*t about you. They don't give two f*cks. There's 50 of you. There's one of me who spends the most money here, you little f*ck. Yeah, f*ck you, Arthur, you little faggot f*ck. You wanna kick me off? Kick me off, you little piece of sh*t. You're an Uber driver, go f*cking drive you little f*ck. Minimum wage faggot, go f*ck yourself. See you later. Go pick up another f*ck. You working all day? Guess what? I'm going to go sit on my a** and watch TV. F*ck you."
The video was recorded by the Uber driver being verbally assaulted.
Local police, the university and the national organization of the fraternity Tau Kappa Epsilon, of which the man shown in the video is allegedly a member, have all reportedly taken action as a result of the video.
The driver, Artur Zawada, said in a comment posted on the video over the weekend that he has been harassed by the Uber rider and his friends repeatedly. He said he previously told the rider that he was requesting that Uber ban him, but said the man uses other people's accounts.
"For that I was falsely accused, called names etc," he wrote. "4th time… Rider knew from Uber application who is the driver. He had option to cancel to avoid any issues but he/they proceeded to abuse, harrase, belittle and provoke like kindergarten thugs."
Ann Arbor police Detective Lt. Robert Pfannes said authorities are aware of the incident and a report was filed with the department.
University of Michigan spokesman Rick Fitzgerald said in an email that the university is waiting on the police report ahead of any further steps by the university in the matter.
The dean of students met with both the Uber driver and the students involved last week, he said.
"We find the actions depicted in this video to be reprehensible and completely inconsistent with ou(r) community's closely held values," he said. "We expect more from our students. Regardless of the circumstances, no one deserves to be treated that way."
The national chapter of Tau Kappa Epsilon said they were "extremely disappointed by the individual's demeaning words." They added, "At the conclusion of our swift, thorough investigation, we will handle the situation with appropriate action. Depending on the details of the investigation, this could include the expulsion of membership."
Watch the video (which is work-unfriendly for language), below: