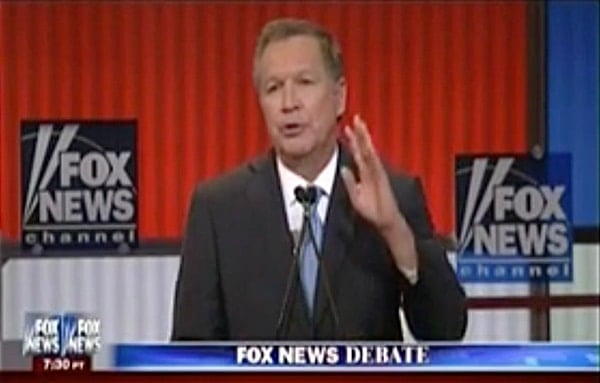 A portion of last night's GOP debate turned to social issues. Moderator Bret Baier played a clip for John Kasich:
"Governor Kasich, the last debate, you were asked a question about religious liberty, and a hypothetical situation where a same sex couple approaches a cupcake maker to do their wedding. Here's what you said."
Said Kasich in the clip:
"If you're in the business of selling things, if you're not going to sell to somebody you don't agree with, today I'm not going to sell to somebody who's gay, and tomorrow maybe I won't sell to somebody who's divorced."
Then Baier posed the question:
"Governor, some faith leaders got nervous about that answer. Do gay marriage dissenters have rights?"
Kasich replied that he hoped America would return to a "common sense" process of discrimination, where people didn't take others to court.
Watch:
https://www.youtube.com/watch?v=YNHXHwDJdzE