SPORTS. New Yorker looks at the faces of college wrestling: "This constant training causes young wrestlers to look haggard but phenomenally fit, a contradiction that the photographer Ben Lowy captures in his post-match portraits from the weekend's events. The athletes are required to wear headgear during collegiate matches but not during practice, and the repeated bruising leaves their ears permanently thick and lumpy, their faces bony and hollowed-out, with cheekbones so high their eyes swell like a boxer's."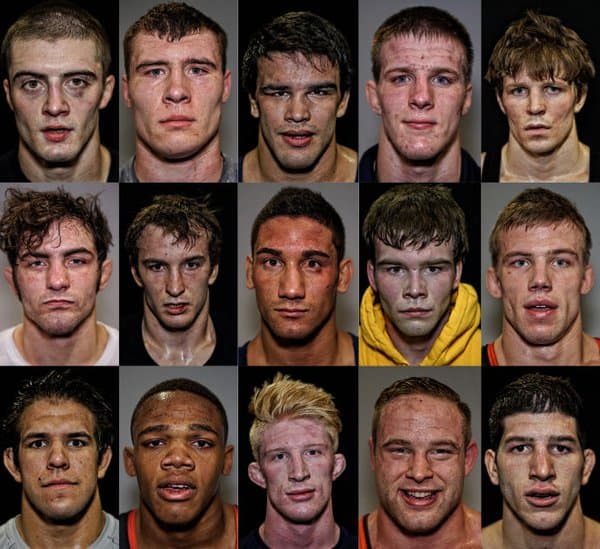 NORTH CAROLINA. Clay Aiken chimes in on the passage of anti-LGBT bill HB 2 in his home state: "Im as pissed abt #HB2 in NC as anyone. But the number of people who are indignant abt it, yet who didn't even vote in 2014 is more sickening."
OUTSIDE REACTION. San Francisco Mayor Ed Lee bans city officials from traveling to North Carolina on non-essential business: "Lee said in a statement Friday that residents in the city with a large gay and lesbian population 'will not subsidize legally sanctioned discrimination.'"
LOL. Viral video shows Ben Affleck looking glum over the poor reviews for Batman v Superman (read our review of the comic book flick, here).
POLITICS. Donald Trump has come up with his line that he plans to level against Hillary Clinton ad nauseam: "Incompetent Hillary doesn't know what she's talking about. She doesn't have a clue. She's made such bad decisions."
MUSIC. Zayn Malik debuts new music video for track, "BeFoUr."
SCI-FI. Dane DeHaan and Cara Delavigne looks sexy and ready for space in first look at Luc Besson's Valerian and the City of a Thousand Planets.
BULKING. Ezra Miller looks buff as he walks the red carpet at Batman v Superman premiere. 
RIDER. John Travolta reportedly requires that any hotel he stays at make a male masseur available to him and cover any windows in his room with aluminum foil and blackout curtains.
GOP. Donald Trump supporter asks Ted Cruz supporter to answer allegations made by The National Enquirer that she was one of five women to have an affair with Cruz: "I think we should move on, and where we should move to is the National Enquirerstory that has reported that Ted Cruz has allegedly had affairs with at least five mistresses — including, you've been named, Amanda."
Are Donald Trump supporters ready for him to move on from feud with Ted Cruz? Heated panel moderated by @KateBolduan https://t.co/QNZLYpDi85

— CNN Newsroom (@CNNnewsroom) March 25, 2016
ISIS. Terror group's number 2 leader has been killed in a US airstrike, according to the Pentagon: "The American forces originally hoped to capture the commander, Abd al-Rahman Mustafa al-Qaduli, and were following his vehicle in at least two helicopters, according to a senior military official who requested anonymity. But their plan to land Special Operations fighters, seize Mr. Qaduli and return him to the helicopter changed for unknown reasons, and they fired on the vehicle instead, killing him. Defense Secretary Ashton B. Carter announced Mr. Qaduli's death, describing him as the group's top financier, but offered no details of how he had been killed."
INSTASTUD. Meet former Olympic athlete and LGB ambassador Matt Lister.