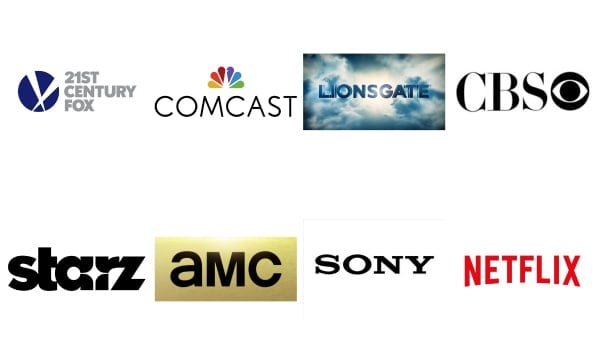 A slew of entertainment and media companies have announced their opposition to an anti-LGBT "religious freedom" law currently awaiting Georgia Governor Nathan Deal's signature or veto.
Disney and Marvel Studios were among the first big players in Hollywood to denounce the bill, saying they would boycott the state if the bill became law. Shortly after, a veritable who's who of top industry talent and executives signed a letter addressed to Deal promising to take their business out of Georgia should the discriminatory bill receive the governor's approval.
Other major organizations that have spoken out against the legislation include Apple, the Atlanta Braves, the Atlanta Falcons, the Atlanta Hawks, Dell, the Dow Chemical Company, the Georgia Chamber of Commerce, Hilton, Intel, Intercontinental Hotels, Live Nation Entertainment, Marriott, MailChimp, the Metro Atlanta Chamber, Microsoft, the NFL, Paypal, Salesforce, Square, Time Warner, Turner, Twitter, Unilever, The Weinstein Company, Virgin, and Yelp.
As of this posting, AMC, Viacom, Starz, 21st Century Fox, Lionsgate, Netflix, CBS, Sony, Comcast, and MGM have all announced their opposition to the bill, according to The Hollywood Reporter.
Read statements on Georgia's "religious freedom" bill issued by each of those companies below.
---
AMC has not pledged to join a boycott (the next season of The Walking Dead is set to start filming in Georgia in May) but had this to say in a statement:
"As a company, AMC Networks believes that discrimination of any kind is reprehensible. We applaud Governor Deal's leadership in resisting a previous version of this divisive legislation and urge him to reject the current version as well."
Viacom, the parent company of Paramount, Comedy Central, Nickelodeon, VH1, Spike and MTV, was also vague as to whether it would pull out of the state if the ban passed:
"Viacom is proud to champion diversity and acceptance, which are core values of our company," a company spokesperson stated. "We have enjoyed doing business in Georgia for many years and we urge Governor Deal to continue to resist and reject the patently discriminatory laws being proposed."
Starz meanwhile called on Deal to exercise "leadership" and stop the "divisive" legislation:
"Starz is an inclusionary company and strongly opposes discrimination in any form, against anyone. As a proud production partner in Georgia for several years, we urge Governor Deal to show the same leadership he has in the past and reject this divisive legislation."
A company spokesperson for 21st Century Fox said,
"On behalf of 21st Century Fox's many creative partners and colleagues who choose to film their projects in the beautiful state of Georgia, we join the growing coalition of businesses in asking Governor Deal to veto this bill
Lionsgate issued this statement:
"Lionsgate has deep roots in the State of Georgia in our film, television and location-based entertainment businesses. As a Company committed to diversity, inclusiveness and tolerance, we urge the Governor of Georgia to veto the deplorable and regressive legislation (House Bill 757) that has been sent to him. We take pride in our relationship with the people of Georgia and want to ensure that we can continue to offer our employees and talent there a working environment consistent with our policies and values."
Netflix was more aggressive, announcing it would pull production from Georgia if the bill passes:
"We recently completed two films and a series in Georgia and had planned on filming two series there in the coming months. Should any legislation allowing discriminatory practice be signed into state law, we will move our productions elsewhere."
CBS Corporation said this of the bill in a statement,
"CBS Corporation is committed to an environment that values diversity and inclusion throughout the company and in all our business practices. The discriminatory language in Georgia's proposed religious liberty bill conflicts with these core ethics and values. We call on Governor Deal to exercise his veto power."
A Sony spokesman said,
"Georgia Bill HB 757 is anathema to our studio and to all those who value diversity and inclusion. We strongly urge Governor Deal to exercise his veto. Georgia Bill HB 757 is anathema to our studio and to all those who value diversity and inclusion. We strongly urge Governor Deal to exercise his veto."
Comcast NBCUniversal added,
"At Comcast NBCUniversal, we are proud of our record of inclusion and stand against discrimination of all forms. We joined the voices that urge Governor Deal to protect Georgia from any discriminatory laws."
MGM has also opposed the bill, saying,
"MGM is unequivocally committed to inclusion, diversity and tolerance in all circumstances. We stand beside our many studio partners in publicly encouraging Governor Deal to veto the discriminatory House Bill 757. Our sincere hope is the state repudiates this hateful and bigoted legislation."