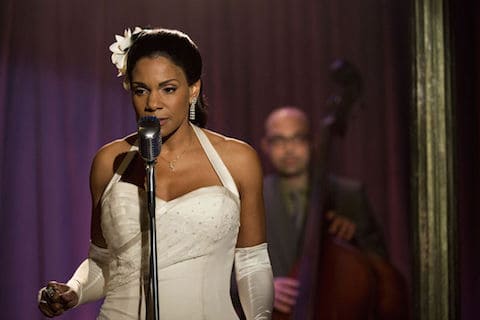 If raw talent was all it takes for someone to be considered a gay icon, Broadway veteran Audra McDonald would already more than qualify. She's won more Tony Awards in competitive performance categories than any other actor. She's the only actor with wins in all four performance categories. But on top of all that, she's also been an extremely supportive ally to the LGBTQ community.
"For the Broadway community, it has always been a no-brainer," she told The Los Angeles Times in an interview. "On Broadway, the LGBTQ community is so visible; we never understood the discrimination of the past."
She's an avid social media user with her Twitter handle AudraEqualityMc, using the platform to share her views and challenge homophobia. When Gov. Mike Pence signed the discriminatory religious freedom law in Indiana, McDonald fired off a barrage of tweets that culminated in her agreeing to donate proceeds from her shows in Indiana to organizations fighting for LGBTQ rights.
The prospect of turning off her fans with her politics doesn't bother the actress, as she explained to The Indianapolis Star. "I'm OK with losing fans who don't agree," McDonald said. "I can't do anything about it. I'm not going to say, OK, no rights for LGBTQ. That doesn't work for me."
She's also performed at the Democratic National Convention's LGBT Leadership Dinner, sung at gay weddings and was honored with PFLAG NYC's "Stay Close" Leadership Award.
To celebrate her incredible career, take a look back at the six Tony Award-winning roles that etched Audra McDonald into history as one of the greatest American performers.
McDonald's first Tony win came in 1994 for Best Performance by a Featured Actress In A Musical for her work in Rodgers and Hammerstein's Carousel. You can see her perform songs from the show at A Capitol Fourth Concert in 2000. McDonald was the first black woman to play the role of Carrie Pipperidge in a major Broadway production of the show.
Her work in Master Class won her a Tony in 1996 for Best Performance by a Featured Actress in a Play. The show follows the life of opera singer (and fellow gay icon) Maria Callas, and also earned a Tony for her co-star Zoe Caldwell. Clips of Audra performing in the show are hard to come by, but you can see her accept her Tony Award in the video above.
Although the big-budget Broadway production of Ragtime was not financially successful, it did snag McDonald another Tony for Best Performance By a Featured Actress in a Musical. She performance alongside other beloved Broadway stars, including Brian Stokes Mitchell and Glee's Lea Michele.
McDonald earned another Tony for Best Performance by a Featured Actress in a Play as well as an Emmy nomination for portraying Ruth Younger in A Raisin In the Sun. The cast also included Sean Combs and Phylicia Rashad, who reprised their roles along with McDonald for the 2008 TV movie version.
She won her Best Performance by a Leading Actress in a Musical Tony Award for portraying the titular Bess in Porgy and Bess in 2012. "She's an addictive personality, a co-dependent personality," McDonald told The New York Times. "In the opera she doesn't have any solos. She exists mostly in duets. In my mind too Bess has a child, a child she had to leave behind. All these ideas helped make her history stack up for me."
McDonald made history in 2014 by becoming the only person to win Tony Awards in four different acting categories when she received the award for Best Performance by a Leading Actress in a Play. She'll reprise her critically-acclaimed portrayal of Billie Holiday in Lady Day at Emerson's Bar and Grill this summer in the West End's production of the show.
What's your favorite Audra McDonald performance?