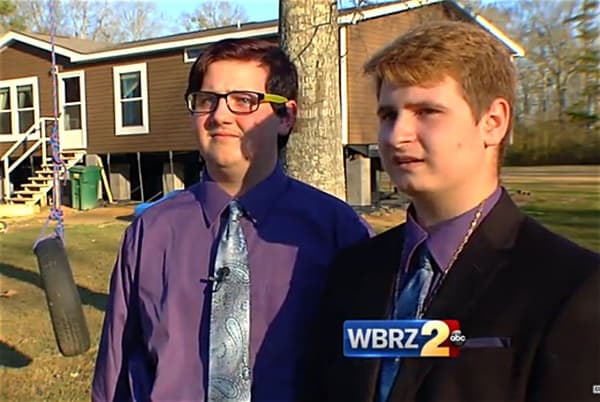 Two gay high school students in a tiny Louisiana town reportedly attended their prom together this weekend, and the school administrator who tried to bar them from doing so may face disciplinary action.
Raymond Tullier, a junior at French Settlement High School, planned to take his boyfriend, sophomore Nicholas Newport, to Saturday's prom. French Settlement, a distant suburb southeast of Baton Rouge, has a population of just 1,100.
When Tullier tried to purchase tickets Friday, an assistant principal prevented him from doing so. Tullier immediately sent a text message to his supportive mother, Tamblie Babin, who called the assistant principal.
"I asked her why Raymond couldn't take his boyfriend to prom, and she said that they didn't allow same sex to go to prom together, that it was against school regulations," Babin told WBRZ News 2.
the reason that everyone hates french settlement

— step-milf (@sar4hdanielle) March 5, 2016
To make matters worse, when the assistant principal learned Tullier had used his cell phone to contact his mother, she suspended him for the remainder of the day.
Babin also contacted WBRZ, which in turn reached out to the district superintendent. At that point, according to WBRZ, "school administrators changed their tune."
https://twitter.com/TrevorVampran/status/706133893150158849
The superintendent reportedly told the station he wouldn't tolerate discrimination and planned to thoroughly investigate the incident.
According to Lambda Legal, federal courts have long since established that barring same-sex couples from proms and dances violates their First Amendment rights to free expression and association. Lambda Legal has also posted tips online for LGBT teens who run into problems at proms and dances.
Watch WBRZ's report:
https://www.youtube.com/watch?v=2fNP4F4F2bw