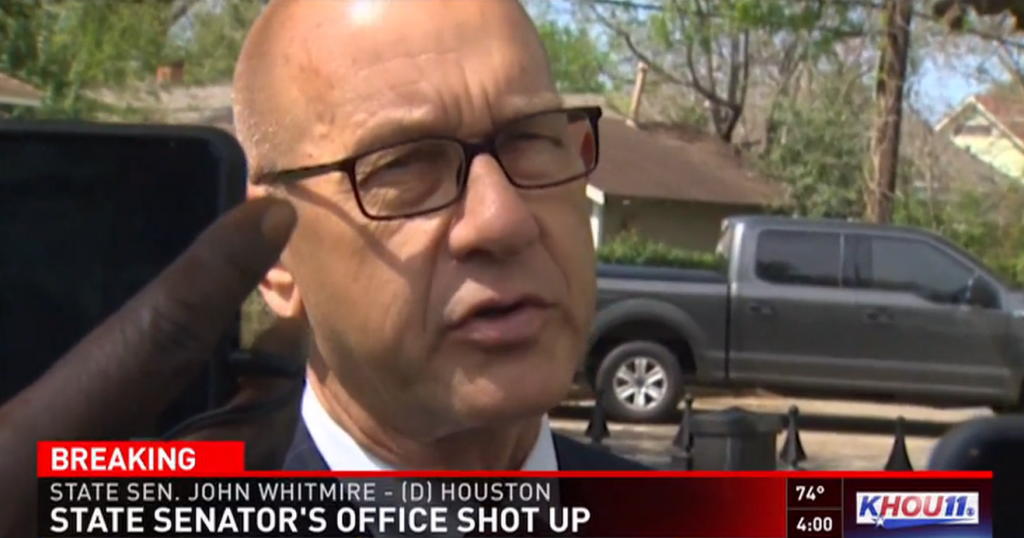 A gunman used an assault rifle to open fire on the office of Democratic Texas state Sen. John Whitmire early Thursday.
Fortunately, no one was in the office in the trendy Heights area of Houston at the time, so there were no injuries.
Whitmire, the longest-serving member of the Senate, is a staunch LGBT ally and a strong advocate for gun-control.
Following the shooting, Whitmire reported a strange encounter with a suspicious man at an event in Houston's Montrose gayborhood on Wednesday night, according to KHOU-TV:
Whitmire doesn't know who or what could be behind this, but the senator will be taking extra precautions while investigators sort through this.
"I don't know how you protect yourself against someone who wants, and is intent on shooting up your office, but I'm sure glad no one was working here last night," said Whitmire.
Whitmire did mention a bizarre encounter with a suspicious man while at dinner in Montrose Wednesday night. Whitmire says the man was wearing a trench coat and offered to buy him a drink, which he declined. Whitmire claims the man kept watching him afterwards and mentioned he was with law enforcement. The restaurant staff confirmed to Whitmire that the man was not a police officer.
It's unclear if this man has any connection to the shooting, but police are working to talk with him.
More from Talking Points Memo:
"There are bullet slugs everywhere," Whitmire said. "One lodged in a framed picture. It's pretty amazing."
Whitmire called his office a "crime scene" and noted the shooting was "concerning in this day and time." …
He is a vocal critic of the state's gun laws and has spoken out against the recently passed campus carry law.
On the day the bill legalizing open carry for handguns passed the Texas Senate last March, the Houston Democrat spoke from the Senate floor. Whitmire said his fellow lawmakers were "making a very serious mistake."
Watch KHOU's report below.