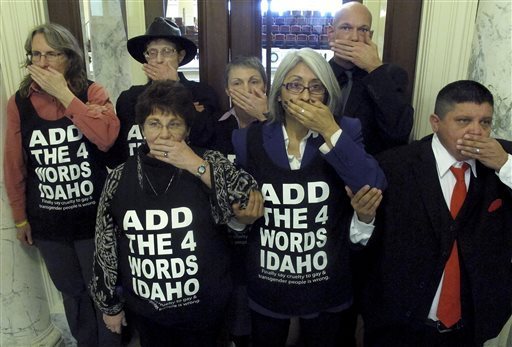 In past years, LGBT activists from Idaho's "Add The Words" campaign have staged colorful protests and been arrested en masse at the state Capitol.
This year, however, they've been mostly silent, after legislative leaders promised they were working behind the scenes on a "compromise" bill that would balance LGBT rights and so-called religious freedom.
Now, though, it may be time for "Add The Words" to end its ceasefire, after GOP Sen. Brent Hill, president pro tem of the Senate, announced last week it's unlikely the bill will move forward, according to a report from Boise Public Radio.
"I'd be extremely surprised to see something actually get passed in this legislative session," Hill said, adding that it would be his greatest disappointment of 2016. "Whether there will be something actually presented or not, I think that will depend on the strategy of those who are pushing it on both sides."
More from The Idaho Statesman:
There's been a core group of senators looking at the issue: Republicans Hill, Majority Leader Bart Davis of Idaho Falls, Curt McKenzie of Nampa and Steven Thayn of Emmett; and Boise Democrats Burgoyne and Cherie Buckner-Webb. No one from the House? That's not exactly an oversight. To win support there, someone from the more conservative ranks of the Republican majority needs to step up. So far, no one has.
To succeed in Idaho's Legislature, a bill needs to do three things: enact LGBT protections, address religious concerns and win the votes to pass. The deadlock, which extends well beyond the senators at the table, rests on competing constitutional principles. Broadly speaking, the religious camp focuses on the First Amendment free exercise of religion. The LGBT-rights camp hones in on the Fourth Amendment right to privacy and 14th Amendment equal-protection clause.
Those in the latter camp say that sufficient religious freedom protections already exist in state and federal law, so just add the darn words. Burgoyne is in that category. He favors a law that "protects people in their own religious beliefs, without allowing them to essentially export their religious views onto other people." In other words, practice your faith freely unless it ruins someone else's day.
Chelsea Gaona-Lincoln, chair of the "Add The Words" campaign, told KTVB Channel 7 she's still holding out hope.
"It may be late in the session, but it's never too late to do the right thing," she said.