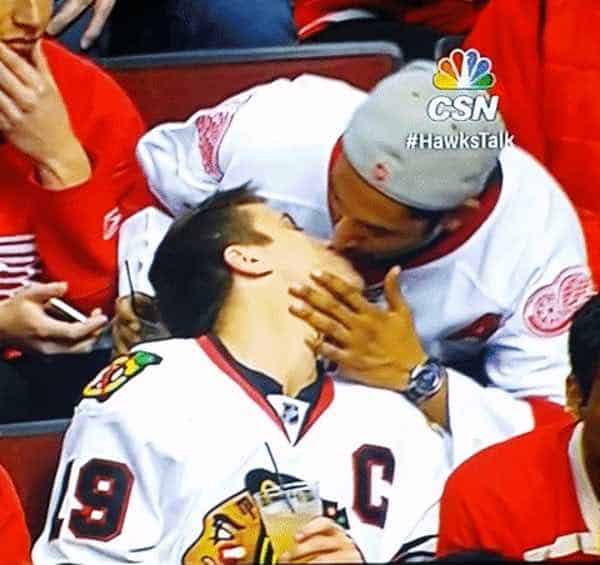 The NHL's kiss cam got a little more than it bargained for on Sunday when it captured what appears to be a kiss between two male fans supporting rival teams.
Video posted online shows a Chicago Blackhawks fan kissing a girl next to him before being pulled into a kiss by a male Detroit Redwings fan sitting behind him.
Or at least being pulled into what appears to be a kiss. Close inspection of the video seems to suggest that the kiss could have been feigned.
The video sparked a lot of conversation on Reddit with one user even calling for the guys to do an AMA.
Most commenters tended to be supportive of the kiss. Some memorable comments included, "What's a peck on the lips among bros?", "Hawks fan wins this game of gay chicken" and "I love how the Hawks fan just went along with it no questions asked and not fazed in the slightest."
Some on social media were confused by the video. One Reddit-er wrote, "When I saw this I was so confused. My first thought was that they were a gay couple but then I was like why wouldnt they have seats together? And then I saw the sweaters I was like wtf… All in a split second. I really wanna know [sic] we need them to do an AMA."
One person at least claims to know the two guys at the center of the video, saying, "I know these guys and they went to Michigan together. Still funny, but probably not the first time…"
Was that a read?
Watch the video, below.